We may earn money or products from the companies mentioned in this post.
Teachable and Clickfunnels are amazing online platforms for course creation and provision. However, the two differ in various areas, such as pricing, the course creation process, course creation rewards capabilities, and course student support and monitoring allowances.
Below is a comparison of Teachable vs Clickfunnels to help you decide which is best.
Don't Want to Wait? Here's Our Verdict
Teachable is the clear winner here. I don't see the benefits of ClickFunnels for online courses.
In fact, id say you should never use ClickFunnels to build an online course.
ClickFunnels has a super-effective marketing system, so you've probably heard a lot of positive things about it. However, a lot of this comes from people who have paid thousands of dollars for the program, and now they're trying to get others to join to collect some affiliate income.
I can't speak to the effectiveness of ClickFunnels as a marketing tool. However, in regards to course creation, there's a lot to be desired. If you want to know more about how we came onto that conclusion, read the rest of the article.
Price
If you can't afford the platform, then you obviously won't be using it. Pricing is significant when you want to choose a platform to host your online courses. It is best when the said platform has an even spread that covers various levels of affordability, without having prices that are too crazy.
Teachable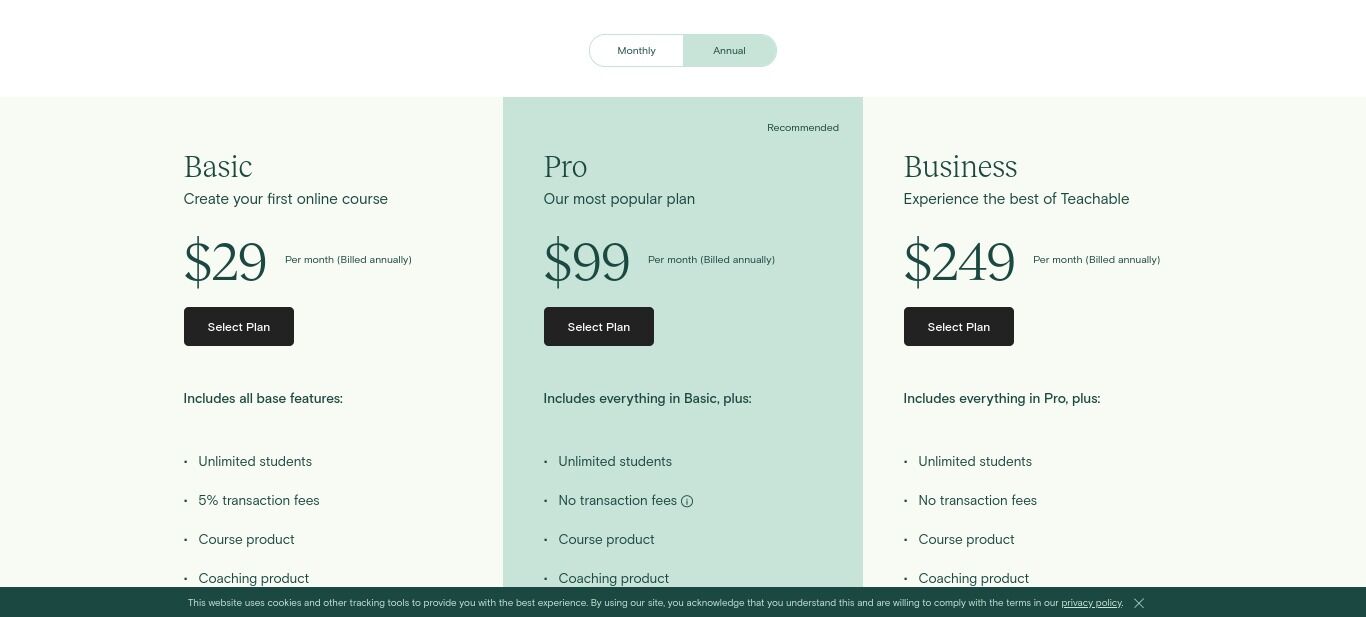 Choosing to go with Teachable gives you access to three different pricing tiers. The first is the basic plan, which costs $29 monthly. Next, there is the professional plan, which costs $79 monthly. Finally, there is the business plan, which costs $399 monthly. These prices are lowered if you purchase a yearly option (image shows yearly prices).
Each is a step up from the last in terms of capability. You should note, however, that even the basic plan has all the features needed for hosting your courses.
Clickfunnels Pricing
Clickfunnels has two pricing alternatives. The first is the standard plan, which goes for $97 monthly. Second, there is the platinum plan, which goes for $297 monthly. Finally, there is the collective option, which costs $1497 monthly.
Like Teachable, Clickfunnels offers everything you need to set your courses up with any of these plans. The difference tends to lie in the number of sales funnels and landing pages that you are allocated monthly.
Winner: Teachable takes it out here. Clickfunnels is incredibly overpriced.
Course Creation Process
The whole idea behind using any of these two platforms is to create courses for those who wish to learn. Therefore, an important consideration is how intuitive and well designed the course creation process is for each of these platforms.
Teachable
Teachable Provides the perfect online environment for any courses that you wish to build. In fact, you could describe Teachable as a complete and comprehensive learning system, as opposed to just a page that you can use to host and store your courses. It is essential to point out that the design and the tools available to you make Teachable superior in this regard.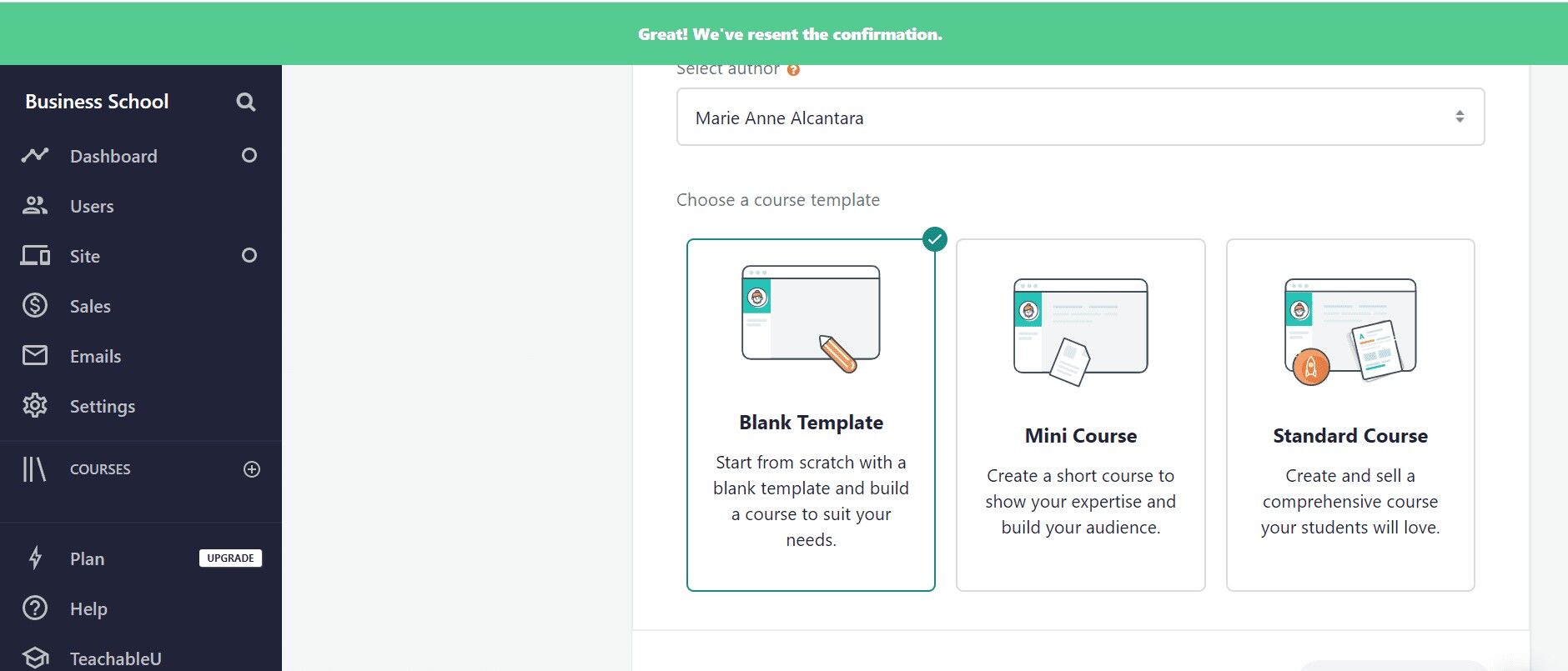 Two of these tools that stand out are quiz creation potential and the provision of a forum and blog system. These enhance the traditional course creation system, as they make things more engaging for your students. This kind of functionality is only available with the Teachable platform.
Clickfunnels is Better For Those With
Though Teachable has a nice design for the creation of online courses, Clickfunnels functions as a more efficient and comprehensive complete system. This is because the Clickfunnels platform allows you to build both digital and physical products. However, this isn't super handy for course creators.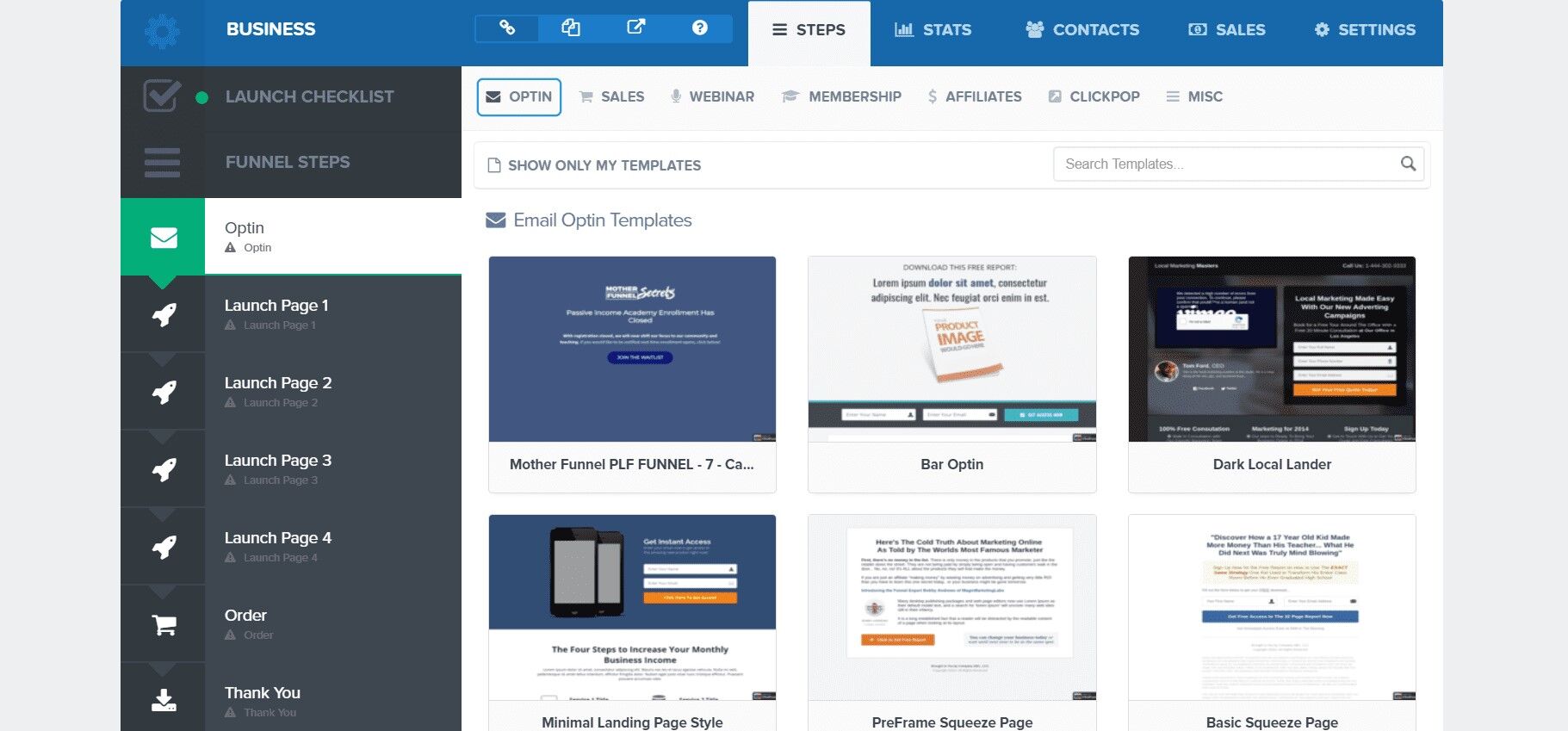 Additionally, it extends the functionality of online course creation, and it allows you to create full marketing funnels, which is something that Teachable lacks.
Winner: Teachable is the better course-creating platform. Sure, Clickfunnels lets you create a marketing funnel around your course. But for sheet course quality, Teachable is the easy choice.
Course Completion Reward System
It's always a badge of pride to successfully complete all the competencies required for an online course when there is a well-designed recognition system to highlight this. Using a platform that provides this kind of experience to your students is an automatic win.
Teachable Has a Great Reward System
Even if you should subscribe to the basic Teachable plan, you are afforded the ability to provide your students with course completion certificates. Not only does this give a sense of satisfaction and enrichment to those who successfully make it to the end of your courses, but it also contributes to the overall feeling of community.
Additionally, Teachable does not force you to stick with the default designs that it provides. Instead, there are customization capabilities that you can use to have a hand in the design of the certificate for any course that you may have on Teachable.
Clickfunnels Doesn't Have Any
If you opt for using Clickfunnels instead, the aspect of course completion certificates is likely to disappoint you.
Unfortunately, there is no such functionality provided by the platform. Your best bet is to potentially set this process up externally. While that's not an incredibly difficult thing to do, it's an extra piece of work and if you have a lot of students, it can become a logisical nightmare.
Student Support and Monitoring
As is the case with a physical classroom, you never want to create a situation where your students are not offered any support apart from the preparation of lessons. Therefore, it helps to have functionality that allows you to adequately monitor your students with actionable insights.
Teachable
Teachable has a fantastic student feedback module. You can use it to create various feedback mechanisms, such as surveys that allow your students to provide useful information on your courses and the overall experience.
This information allows you to work on lacklustre areas, and it also lets you know what you are doing right.
The Teachable experience is conducive to adequate student monitoring, as you can provide support where needed, and you can even ensure that courses are being taken.
Clickfunnels
Unfortunately, this is another area in which Clickfunnels is lacking. There is no way for you to gather data on how your students feel about the course experience. You also cannot be present in any way to provide the kind of support that you can with Teachable.
Final Recount
Teachable: 4/4
Clickfunnels: 0/4
Pros and Cons
Teachable:
Pros:
Superior course hosting capability on platform
More comprehensive course building, monitoring, and support, which increases the likelihood of your students' success
Feedback provision system that gives you information directly from those who use your courses, which allows you to learn your strengths and weaknesses
Cons:
No sales funnel capability is present
No marketing functionality exists
Clickfunnels Pros and Cons: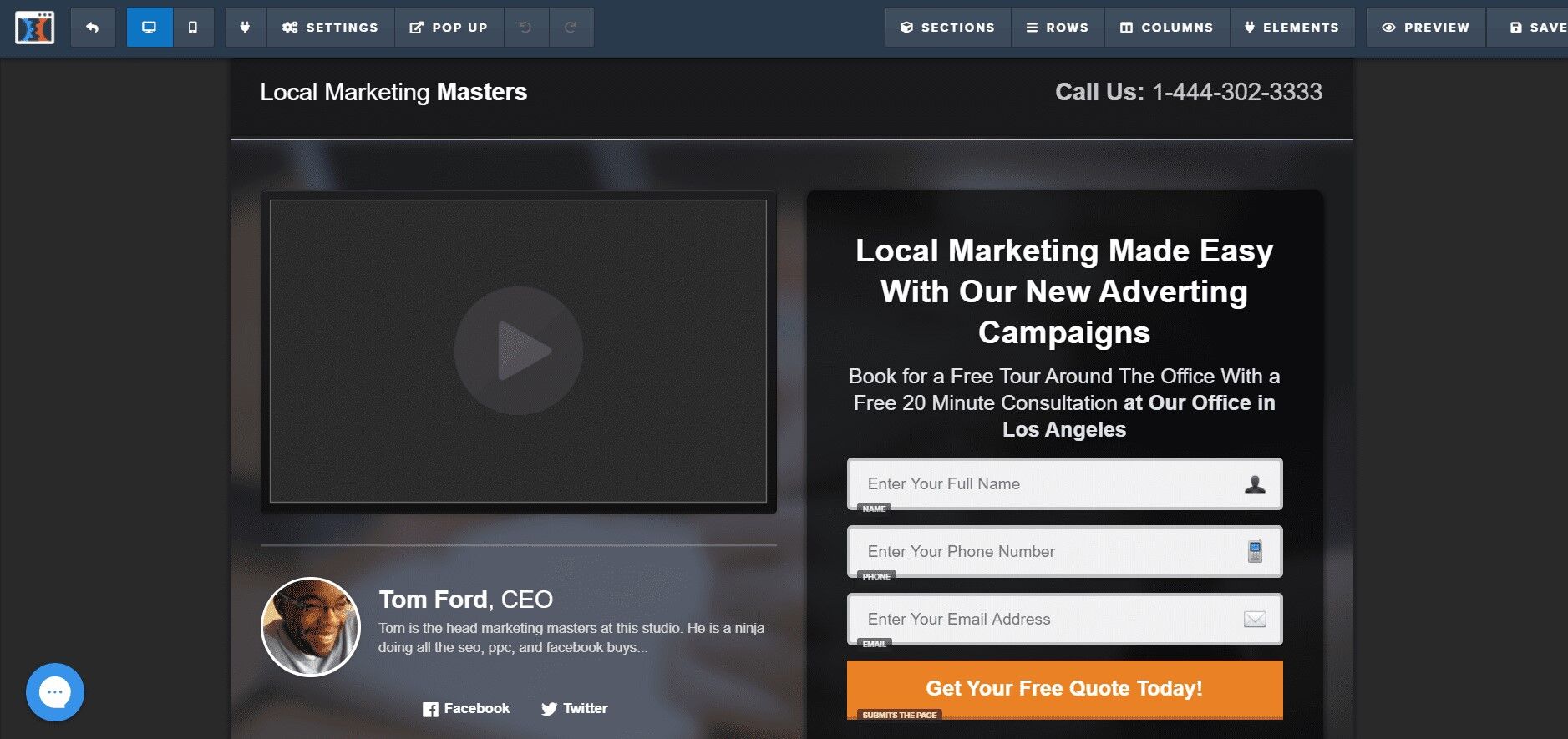 Pros:
Complete sales funnel platform, which provides you with tools to create your courses, as well as those needed to get them to your customers
marketing capabilities to help with the promotion of your course material
Cons:
No way for you to get feedback from your students to tell if you need to do anything differently
Not made for course creators
Lack of rewards certificate program for a course completion
Less affordable pricing
If You Like This Article, You'll Love
Teachable vs Thinkific
Teachable vs Podia
Teachable vs MemberSpace