We may earn money or products from the companies mentioned in this post.
Creating an online community can be a very rewarding thing – not just financially, but also personally. It shows you that you're building something worthy, something that your community appreciates.
Facebook is fantastic for building a community. But if you want to offer more products and services to the community you build, you'll eventually have to think about moving away from the platform.
Two of the most common platforms many move to are Mighty Networks and Patreon. But which one is better? You should first look at what you need specifically, and then decide. Overall, we believe Mighty Networks has slightly more to offer – read on to find out why in this Mighty Networks vs Patreon review.
Don't Want to Wait? We Prefer Mighty Networks…
Even though Patreon is free to use from the start, it's actually more expensive than Mighty Networks as you grow. Depending on the plan you choose, you'll have to pay a percentage of your earnings to Patreon, whereas with Mighty Networks, you pay for the subscription and a very small cut of your earnings.
Also, Mighty Networks has a far superior community builder and better functions for members. Everyone can contribute to the feed of the community, while on Patreon, only the creator can communicate with the members.
Even though Patreon can be better for you in a few situations (eg. for podcasters), we recommend using Mighty Networks if you're serious about growing your network and providing different types of materials, such as courses, e-books, articles, and other resources.
Those are just a few reasons why we prefer Mighty Networks. Read on for a more detailed comparison between the two.
About Mighty Networks
Let's talk briefly about each of the two network builders so that you'll have a better idea of what to expect.
Mighty Networks is a relatively new website builder. It was established in 2017 as a community builder.
It's a great website builder that allows you to migrate your community from other platforms, such as Facebook, and offer the members exclusive content in exchange for memberships or one-time fees. You can also offer them courses, membership plans, and bundles of products.
If you're looking for an in-depth review of Mighty Networks, then read ours here. ✌
Mighty Networks Features
What we love about Mighty Networks is that you get your own website with your own domain, unlike with Patreon, where everything is hosted on Patreon. That allows you to brand yourself better, which can result in better marketing efforts, as well as greater customer loyalty to your brand.
It's a place where your members can join the community either for free or for a membership fee. The members are then allowed to see the content of the community, comment on the posts, create posts, and interact with other members.
Also, Mighty Networks allows you to create courses. These can either be a part of the membership, or you can charge them separately. A neat feature here is that you can market the course to external members, too.
You can also boost your marketing efforts with the help of Zapier integrations. These make your life easier when you want to send out batch emails to your customers or to leads that are looking to join your network.
Mighty Networks Pricing
So, what do those features cost?
You can create an account and your community completely for free, and you can even charge memberships when you create a community for free with Mighty Networks. You can't create courses, though, but you can allow an unlimited number of customers to join your network, see the posts, and contribute to the timeline.
However, you must note that if you create an account for free, you're going to have to pay 5% of your earnings to Mighty Networks that you earn through memberships. So it's not completely free.
The second membership that's really popular for Mighty Networks creators is the Community Plan. This is a very similar type of subscription, only that the commissions you have to pay to Mighty Networks are lower (3%). Plus, you get your own domain, and you can have unlimited admins for your network. It costs $23 per month.
In our opinion, the Business plan is where it's at with Mighty Networks. This is where you get the Zapier integrations, in-depth analytics for your community, and the ability to create online courses. It costs $81 per month, and you only have to pay 2% of what you earn. This is the plan for those who have larger communities of followers and are looking to create courses for them.
Mighty Networks Pros
You will pay less in the long-term on Mighty Networks than you will with Patreon. Even though the Business plan looks quite expensive at $81 per month, you will only have to pay 2% of your earnings back to MN. Compared to Patreon, where you will have to pay up to 12% of your earnings to Patreon. Let's say you have a hundred paying members for a $10 membership. With MN, you'll pay the subscription for the top plan ($81), and 2% of the earnings – which amounts to $101 altogether. With Patreon's top plan, you'll have to pay 12% of your earnings, which is $120. This is just an example, of course, to demonstrate how MN can actually be cheaper than Patreon.
The networking features for your members are far more complete than with Patreon. The members will be able to create their own posts within the community, communicate with themselves, comment, and interact with each other. On Patreon, this is not possible – you might need to use third-party apps to communicate with your members, or to let them communicate with each other.
You can create online courses with Mighty Networks. The course creation platform is actually very deep and detailed, and it allows you to create a very complete course with different types of materials.
It's easy to migrate from Facebook groups to Mighty Networks groups. This includes both content and members you might have in your Facebook groups.
It's far more focused than the Facebook Groups communities. The Mighty Networks communities are made with a clear purpose, so you'll be able to allow your members to get deeper with the entire platform you create, without the distractions that are present on Facebook, for example.
The Ambassador program allows members and people to refer other friends to your program, and they will get rewarded for doing that. It's a neat marketing tool that allows you to grow your base of customers easily.
Mighty Networks Cons
It can be quite complicated to use, especially for beginners. There are so many tools that you can use here, and it might be slightly overwhelming at first. But once you get used to it, it's a doddle. Plus, there are many resources in the Help Center of the platform, where you'll get tutorials for almost anything you do with MN.
Secondly, there is no live chat or telephone customer support. While you can contact them via emails, they will respond quite quickly and they are very helpful. Although with live chat, you would be able to get an answer much quicker.
About Patreon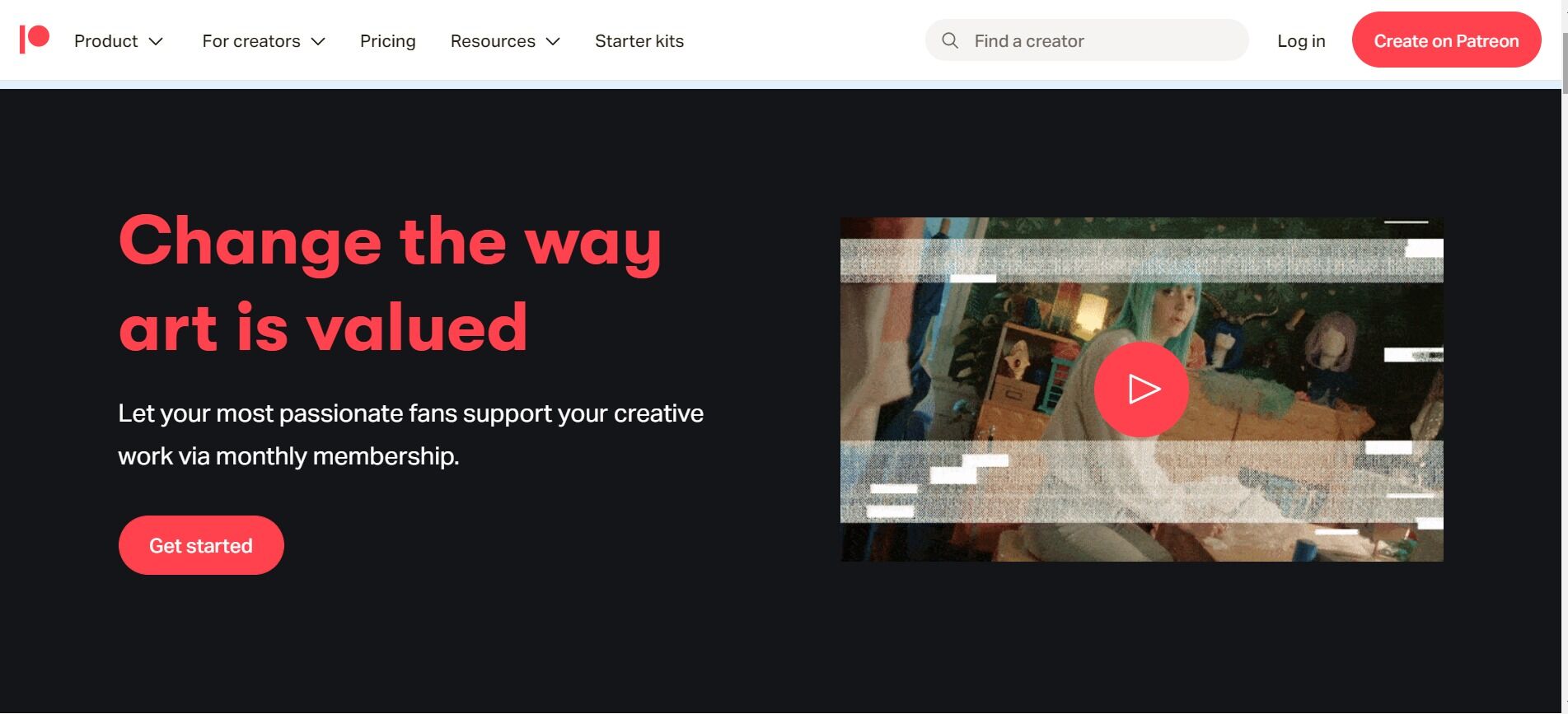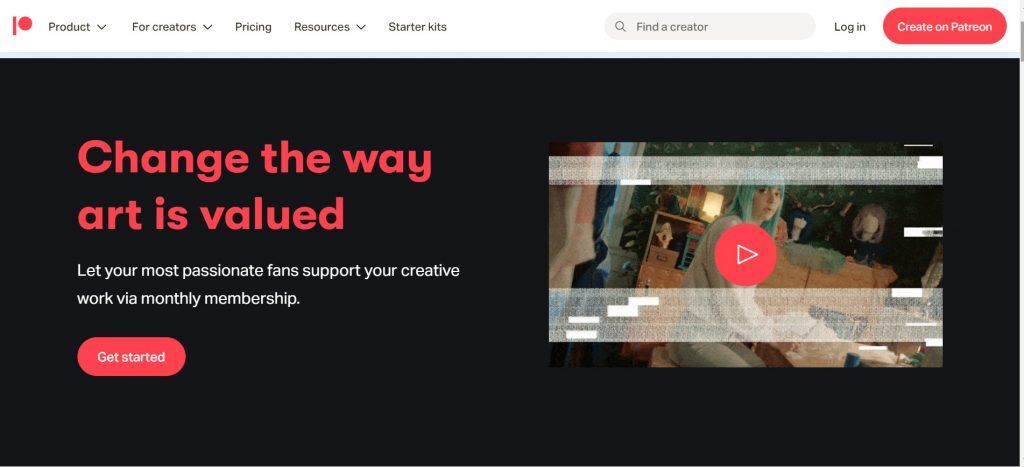 Patreon is one of the most popular platforms for creators of all types – podcasters, storytellers, graphical artists, musicians, and other creators who want to sell their skills to their members on Patreon.
Often, they will do so for a relatively small fee. Patreon also allows creators to create communities of members, create posts, and add new content constantly that only members can access.
Patreon Features
Patreon comes with some nice features, and all of them are free, although there are different plans to choose from.
In short, these are some of the Patreon features:
Your own Patreon creator page hosted by Patreon in entirety. You can customize your page, but only to a degree.
Adding content to the creator page that only members can access. This includes posts, new content, podcasts, and special content you curate for members. You can also create workshops.
Creating memberships and membership tiers. You can decide what content you create for different members, and you decide how much they will pay, too.
Analytics that help you keep track of your Patreon community
Integrations
Patreon Pricing
Patreon is free to use, although it does come with commission fees that you have to pay to Patreon from your earnings.
With the Lite plan, you'll pay 5% of your earnings back, and you only get the basic features. Then, there's the Pro plan, which is the most popular one. This one has an 8% commission fee and many features that will help creators.
The highest-paid plan is the Premium plan, which commands a 12% commission fee. This one's for the biggest creators out there.
Patreon Pros
It's very simple to use. Because it's only you contributing to the community, you decide what goes in. You only need to be really good at what you're doing.
It's free to get started (even though you do need to pay higher commission fees).
You can create amazing content for your network for relatively low fees
It's great for growing your community and it's accessible for different types of creators, including podcasters, designers, musicians, and other creators.
Patreon Cons
The community options are limited. Only you are able to create posts in the network, while the members are not able to comment, create their own posts, or communicate with each other.
It's actually more expensive in the long-term than Mighty Networks. That's because of the higher commission fees that also command you to pay more to Patreon in the end, even though it might not seem so it doesn't have a course creator, and it's not as detailed as Mighty Networks
Our Verdict
Ultimately, Patreon and Mighty Networks are meant for different kinds of audiences. Patreon is more for artists, while Mighty Networks is better for teachers and businesses that look to create awesome communities (just like Facebook) and add their courses.
In terms of network creation, we believe Mighty Networks is superior to Patreon. It has better networking options, it allows you to create your own courses, and in the long-term, it's cheaper. That's not to say that Patreon is a bad platform – it can be great if you're a talented artist looking for a side income.
That's it for our Mighty Networks vs Patreon review – hopefully, you enjoyed it. 🙂