We may earn money or products from the companies mentioned in this post.
In the following Instaread vs Blinkist review, reading apps Instaread and Blinkist are compared alongside each other, including their ease of use, price, and selection of titles.
Don't Want To Wait? Here's Our Verdict
Both Blinkist and Instaread offer great summaries of books and lessons from them. However, it really depends on what you're interested in. Blinkist simply offers summaries of nonfiction books. Instaread offers nonfiction books, along with fiction and original pieces. Instaread also branches from the book's lessons and uses examples from outside of the text.
Try Blinkist For Free + Exclusive 20% Discount
If all you want is a nonfiction book summary, Blinkist is the best choice – however, if you want more, try Instaread.
Which is Easiest to Use?
Both Instaread and Blinkist are reading applications that convert books into digestible, bite-sized summaries. The apps are supported on desktop, on both iOS and Android devices, and on Kindle.
Both have a discovery feature that allows you to browse summaries of new titles and add them to your collection. From there, you can save them to your library and download them for offline reading.
The main panels are accessible through the navigation bar at the bottom of the screen for both apps. Instaread has an additional "Search" panel which Blinkist integrates into its discovery and library features.
On the reading interface, both apps have options to return to the previous page, or to change the text size. If you are on the go, opt for the audio summary for a hands-free experience. Blinkist also has filters which when applied, allow you to sort your library based on your reading progress. Instaread offers an additional "visualized" option which allows you to digest the content from an infographic.
The Winner of Easiest to Use
Both applications are comparable in terms of ease of use. The simple design, minimalistic user interface, and unobtrusive buttons in both make navigating the app straightforward. With these plus points, you are assured a reading experience free from distractions.
Best for Book Selection
The availability of titles is an important consideration for any reading app. This section compares the range and number of titles in both apps.
Instaread
Instaread offers more than 1,000 titles in the categories of Business and Economics, Politics, Social Sciences, Self Help, History, Science, Religion, and Health and Fitness. In addition to their selection, Instaread has two additional offerings that are exclusive to the app.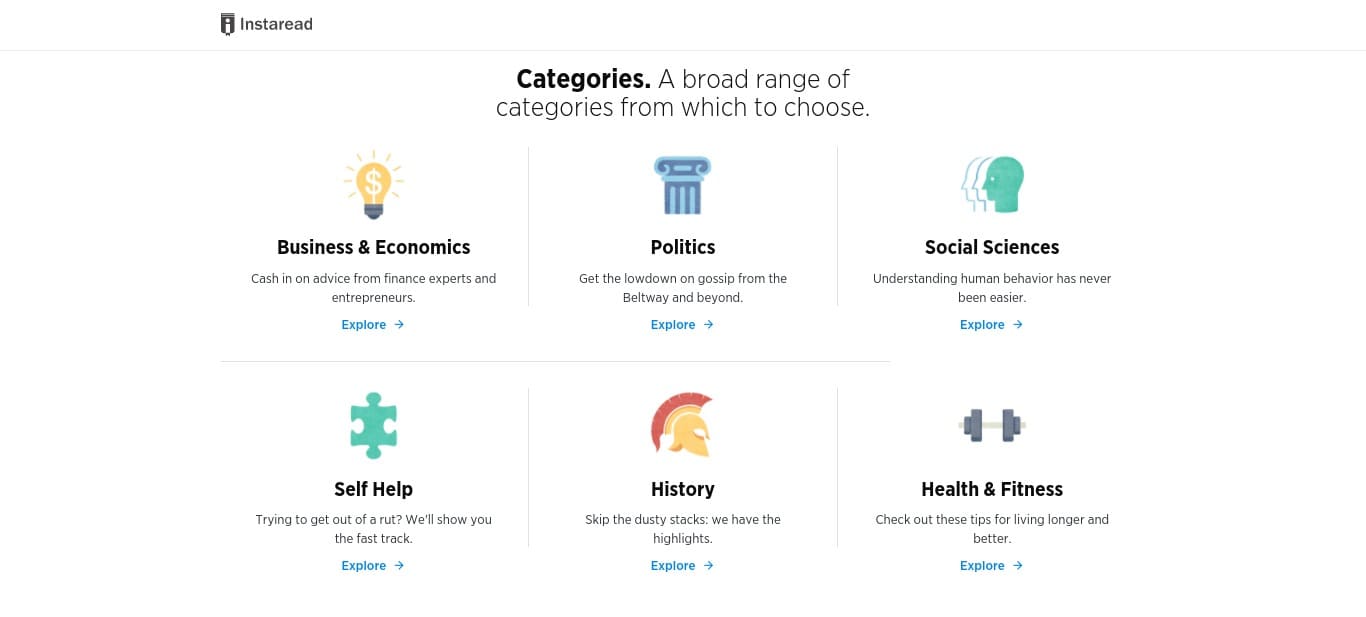 One of them is 'Instaread Originals', which features original content from the Instaread team. Another is their magazine and newspaper selection, which features summaries of articles from The New York Times as well as Harvard Business Review. If you subscribe to either of these publications and are looking to maximize your use of the subscription, then Instaread is a good one to consider.
Blinkist
Blinkist, on the other hand, has a selection of more than 3000 books (or blinks), with 40 new added titles per month. The selection includes titles from 27 categories, including Parenting, Personal Development, Productivity, Psychology, and Technology, among others.
Try Blinkist For Free + 20% Discount
The Winner of Better Selection
In terms of the number of titles offered, Blinkist is the superior option. However, Instaread's selection is fairly comprehensive as well. It also has the added benefit of offering a wider range of media. Instaread also offers fiction books, which is something that Blinkist doesn't do.
Best for Price
Blinkist
While Blinkist is free to download, this only gives you access to one summary per day. This won't be a title of your choice, but a random summary called 'The Daily Pick'. To access the full range of titles on the app, you need to sign up for a premium subscription. The premium subscription sets you back $12.99 on a one month plan, and $79.99 on an annual plan.
The premium subscription for Blinkist also gives you a host of additional features, such as the ability to sync your text highlights with productivity tool Evernote, and to send blinks directly to your Kindle if you prefer to go easy on your eyes. Additionally, you can store blinks in both text and audio versions on your device to access them while you're off the grid.
Try Blinkist For Free + 20% Discount
Instaread
On the other hand, Instaread costs $4.99 for a monthly subscription and $49.99 for an annual subscription.
The Winner of Best Price
While both reading apps offer a 7-day free trial where you can try the app for yourself at zero risk, Instaread does the job at more wallet-friendly prices. However, if you don't mind forking out slightly more for compatibility with other productivity tools, you may wish to consider Blinkist.
Best for Fiction Books
Instaread
Instaread offers a selection of titles belonging to the fiction genre. These include a myriad of genres, such as thriller, young adult fiction, and mystery. There are also renowned classics such as The Great Gatsby, Pride and Prejudice, and To Kill A Mockingbird, to name a few. If these options are not to your fancy, Instaread also offers a more contemporary selection. These include titles that have made the list for various literary awards, such as The Underground Railroad, which won the 2017 Pulitzer Prize.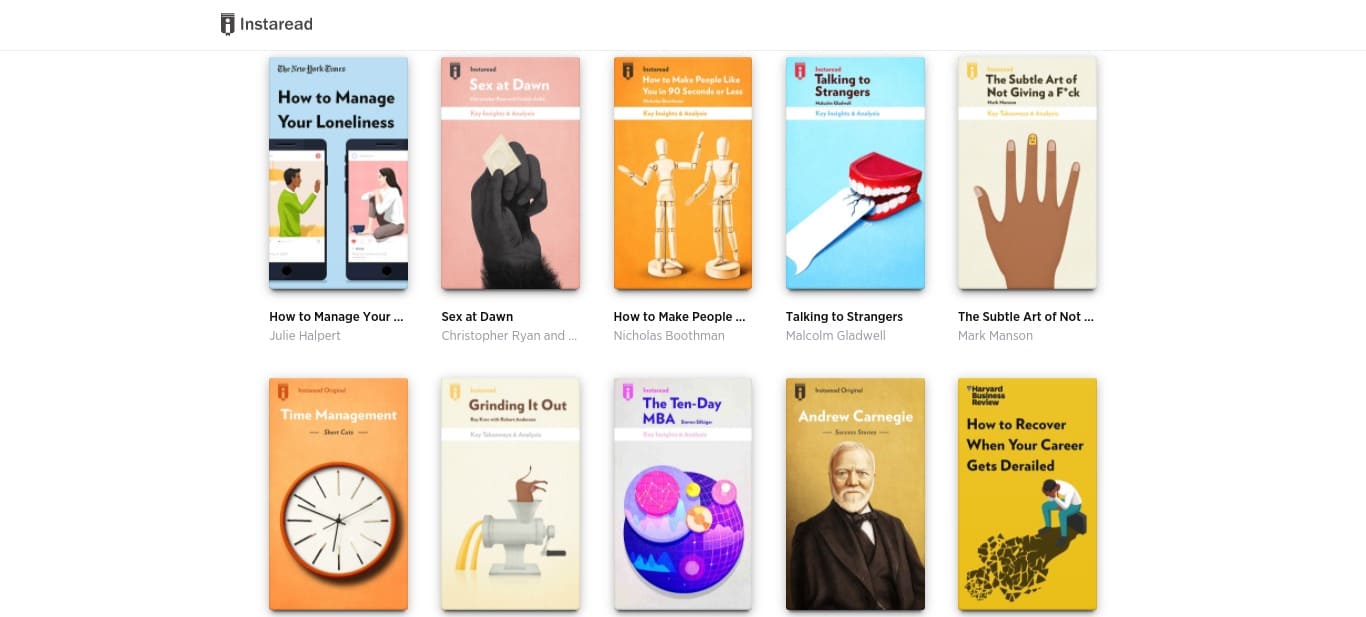 Blinkist
While Blinkist has a comprehensive selection of non-fiction titles, it is clearly lacking in the fiction aspect. The titles in its selection are generally catered to non-fiction readers, and there are no fiction options. That being said, the selection of non-fiction titles that it carries is impressive, with titles from best-selling authors such as Malcolm Gladwell and Adam Grant. If you are a voracious non-fiction reader and prefer to stick to this genre of titles, then Blinkist is the one to consider.
Try Blinkist For Free + 20% Discount
The Winner of Better Fiction Selection
Instaread is a clear winner in this aspect. Since all the titles on Blinkist are non-fiction, Instaread is the clear choice for readers who are looking to read summaries of books in the fiction genre.
The Winner
Having examined the pros and cons of each, it is time to do a roundup of what these two reading apps have to offer.
First off, both Instaread and Blinkist have a user-friendly interface. Both apps focus on functionality and avoid unnecessary features that might take away from the reading experience. In this aspect, the minimalistic design and simple navigation are a huge plus for both.
Instaread does well on multiple aspects, including its price and the availability of fiction titles on the app. Ultimately, with its original content and magazine and newspaper offerings, it is a good choice for adventurous readers who enjoy a variety.
Blinkist's most impressive aspect is in the number of non-fiction titles it carries. This outnumbers the selection of titles that Instaread carries. Given the number of titles on offer, this is a good choice for readers who know what they want, and who prefer to stick to non-fiction titles.
Final Thoughts
Hopefully, this Instaread vs Blinkist review has given you a better idea of what to expect for each of these reading apps. Your preferences and the type of books you enjoy determine which of these is the better choice. It's time to get started and immerse yourself in the bite-sized content available.