We may earn money or products from the companies mentioned in this post.
Do you sell courses on Teachable and find yourself spending too much time on mundane and everyday administrative tasks?
If so, then you want to automate as much of your work as possible. Why do unnecessary work when it can be automated, right?
Zapier is one of the best task automation tools you'll find online. It will connect Teachable with third-party software to automate your tasks. If you're wondering how to use Zapier with Teachable, then this guide will serve you very well.
What is Zapier and How it Works?
Zapier is an automation tool that will connect Teachable with third-party software. You can do so in order to automate tasks, saving you a lot of time in the process. And you know that when you save time, you also save money.
So, at what cost are you getting the benefits of Zapier?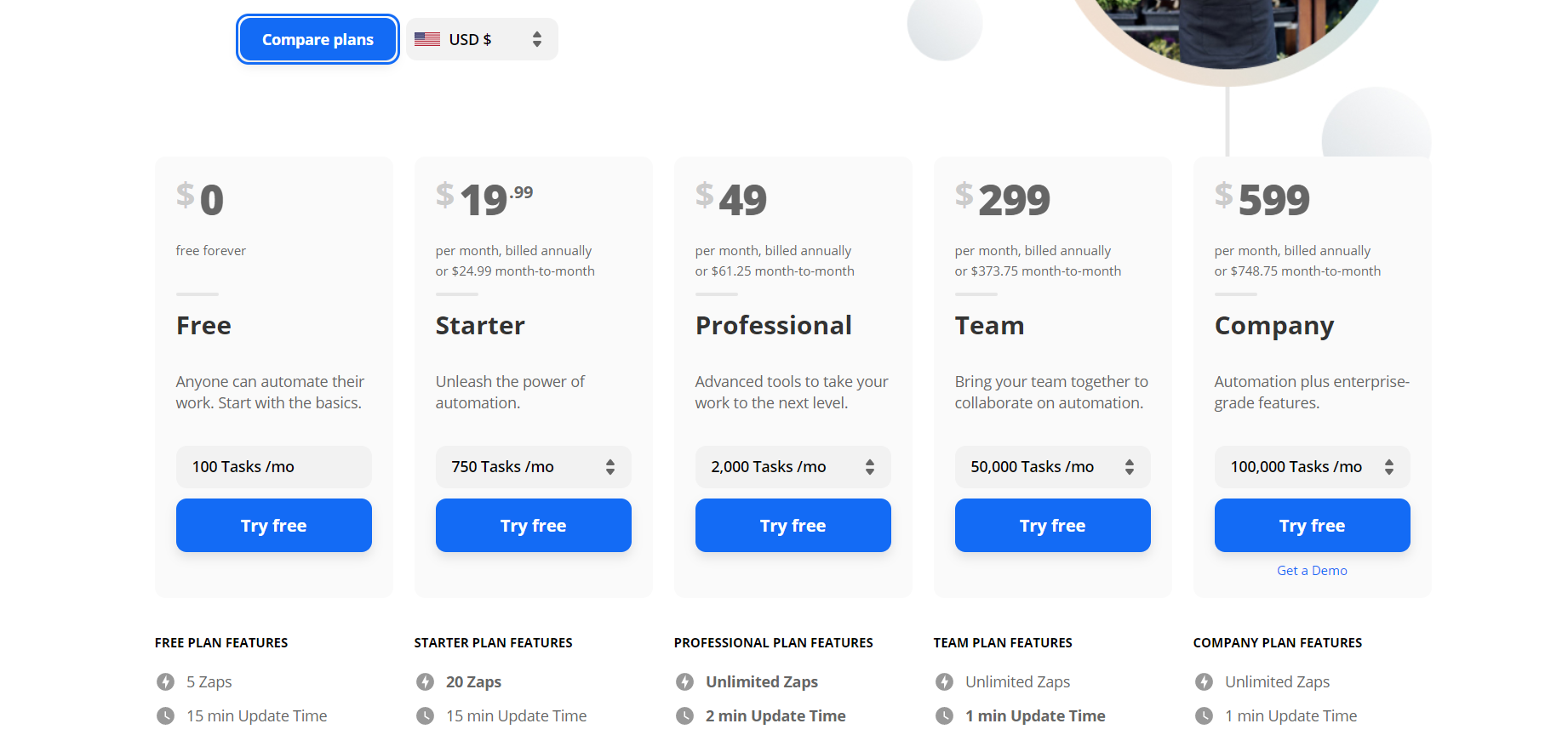 You can use Zapier for free, but the usage would be very limited in that case. If you opt for the free option, you will get 5 zaps per month, and you'll be able to use only single-step zaps. It's a neat option to try it out, but for someone who will need this on a daily basis, it's far from enough.
More and more users opt for the starter and professional packages. With the Starter option, you're getting 20 zaps and up to 750 tasks per month. That's already decent; but if that's not enough for you, you can try with the professional plan, which will give you unlimited zaps.
For larger corporations and teams, you can select the Team or Company pricing options.
With Teachable, Zapier can be used for automating several tasks. These are some examples:
Email automation with automation services such as MailChimp, ActiveCampaign, Gmail, and more.
Google Sheets, Calendar, and other software from Google.
Other automation tools and team management tools such as Slack, Trello, and others.
How Does it Work?
Zapier operates on the basis of zaps. But what is a zap, anyway?
A zap is basically a two-step process that is comprised of triggers and actions. When a certain trigger is completed on your Teachable course or your website, then an action will be completed in a third-party app.
For example, a nice, common trigger on your Teachable website would be when someone enters your Teachable course. And when that happens, then Zapier triggers the action in the third-party app. Let's say that for this example, the trigger would be to subscribe the new user to your emails in MailChimp.
But zaps can work both ways. A trigger in the third-party software could inspire action on your Teachable site. Currently, there are four actions in Teachable: Create new user, Enroll user in course, Unenroll student from course, Find student.
How to Use Zapier with Teachable? Best Integrations
So what are some of the more popular Zapier integrations with Teachable? There are more than 2000 different apps to choose from in terms of integrations, so the choice is certainly there.
Here are some popular Zapier integrations with Teachable for you to consider.
1. Teachable + ActiveCampaign
ActiveCampaign is one of the most popular automation tools for online businesses, vendors for email marketing, marketing, CRM automation, and so much more.
As you many know, ActiveCampaign does require quite a lot of work. And Zapier can take that stress off your hands. ActiveCampaign is normally a part of huge campaigns spanning across multiple channels, which makes it challenging to manage.
With zaps, you can easily control its integration to Teachable, making your Teachable account much easier to manage.
These are some of the most popular integrations: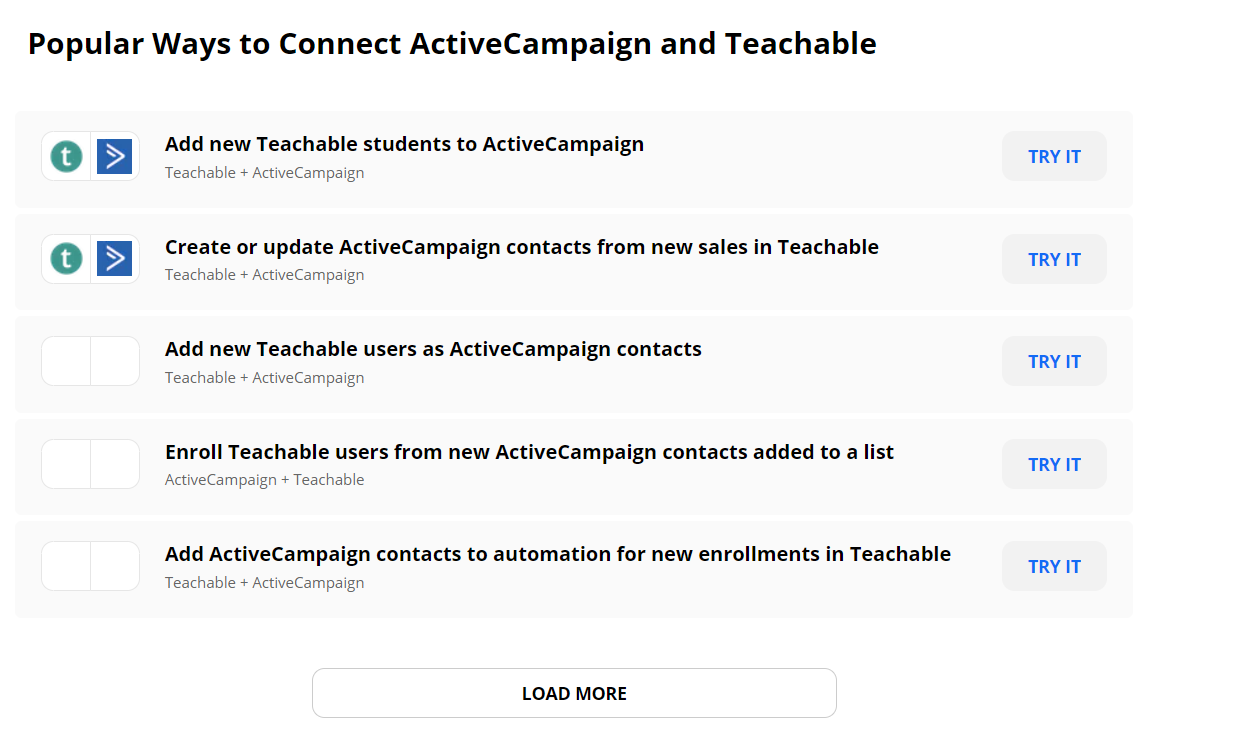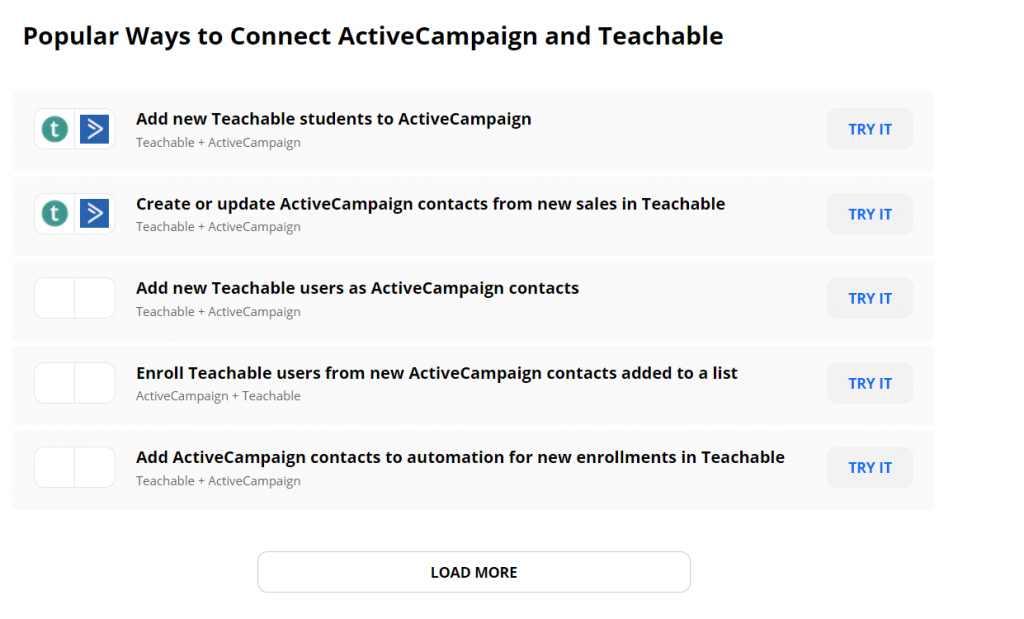 Altogether, there are 121 integrations between ActiveCampaign and Teachable, and these are all supported by Zapier. Working with ActiveCampaign and Teachable has never been easier.
2. Teachable + MailChimp
If you're managing an extensive mailing list, then MailChimp will fit very nicely like a screw into your campaign. It will take a lot of work off your hands, and you'll be able to automate your mailing efforts.
There are several triggers that will inspire certain actions in MailChimp: new admissions, course completions, new users, new sales, and more.
And among the more popular actions are the following actions: Create campaigns, add subscribers, remove subscribers, add a note to a subscriber, find campaigns, find subscribers, and many more other actions.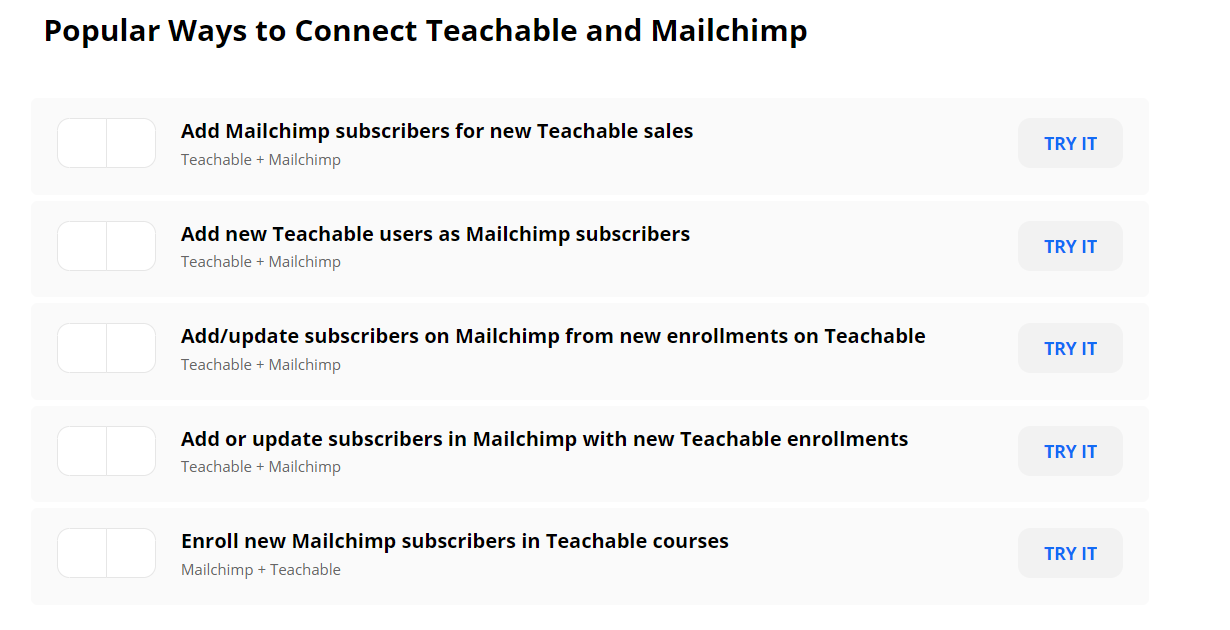 Zapier will save you time and effort on your emailing campaigns, which can significantly improve your email marketing.
Teachable + Shopify
If you happen to have an online store or shop in addition to your Teachable account, then you can easily connect the two platforms via Zapier.
For example, if you sell your course on Shopify and have it on Teachable, then this integration will become absolutely crucial for your success.
One of the most popular integrations with Zapier for Teachable and Shopify is when a customer makes a purchase on your Shopify site. If you happen to sell your course on Shopify and have it on Teachable, then the integration will automatically enroll the customers who purchased the course on Shopify into the course on Teachable.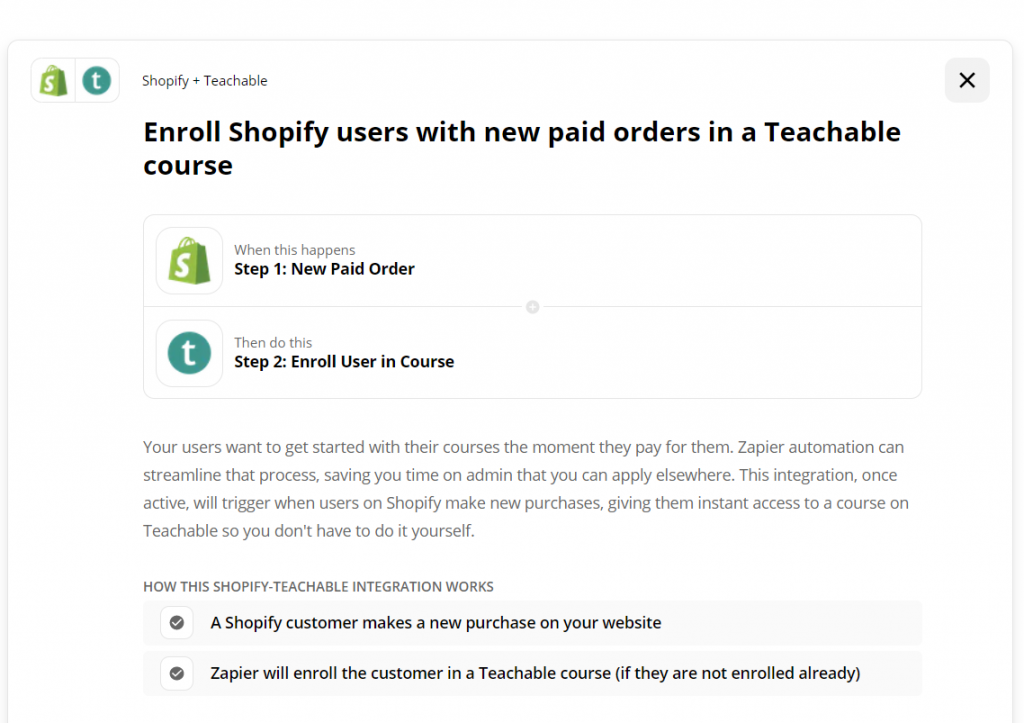 This takes the hassle out of manually admitting new customers to your Teachable course. Now, Zapier will do it for you, which can be a huge time saver.
Teachable + Hubspot
This is probably the largest integration with Teachable and Zapier. You'll have more than 250 integrations for Hubspot and Teachable.
If you happen to use Hubspot, then you can expect to use this integration a lot. And luckily, it will save you hours weekly, allowing you to focus on other crucial tasks of running your business.
With this integration, you can create new contacts in Hubspot for new course users, which will allow you to manage your new contacts easier and you'll have a clearer picture if you need contact information in the future.
Teachable + Google Sheets
If you use Google Sheets to manage your contacts, sales, enrollments, and other numbers or information, then this integration is certainly a lifesaver.
When you get a new sale or enrollment in your course, you can automatically set the integration up in such a way that it stores all the information about new customers in Google Sheets.
Additionally, for keeping up with your transactions, you'll want to update your sheet currently so that the real information is displayed.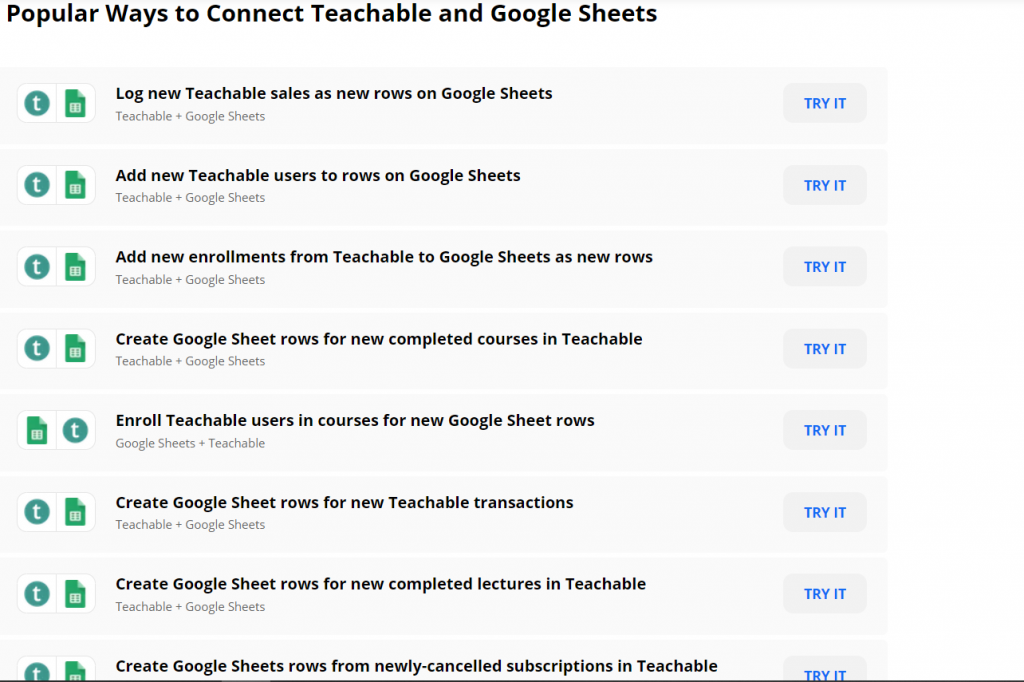 Practically any information that you store from your Teachable site in Google Sheet will be automated, and this is arguably one of the most popular ways how Zapier is used.
Teachable + Slack
Slack can be a successful CRM tool, but it's also great if you manage a team. So however you might use Slack, this integration will help you massively along the way.
You can sync data between Teachable and Slack and contact your users and students through the platform. You could set up an integration that would automatically contact all new students in Slack.
You can also find users on Slack based on their Teachable information, and add them there later on. It makes your communication with customers so much easier.
How Do You Create a Zap?
So if you're new to Zapier, then you might be wondering how you can create a zap yourself.
Luckily, that's all very easy to do. There are many integrations available – practically almost every integration you might imagine, so finding the right trigger or action should not be a problem.
And the best thing is that it requires absolutely no coding skills from you!
Yes, there is a subscription you might need to pay to access the more advanced levels of Zapier integrations. But I think that if you are serious about automation, then the Zapier subscription is worth it.
Creating a zap is very simple. First, you'll need to create an account with Zapier and access your dashboard. Then, from your dashboard, click on "Make a Zap".
This screen should open next.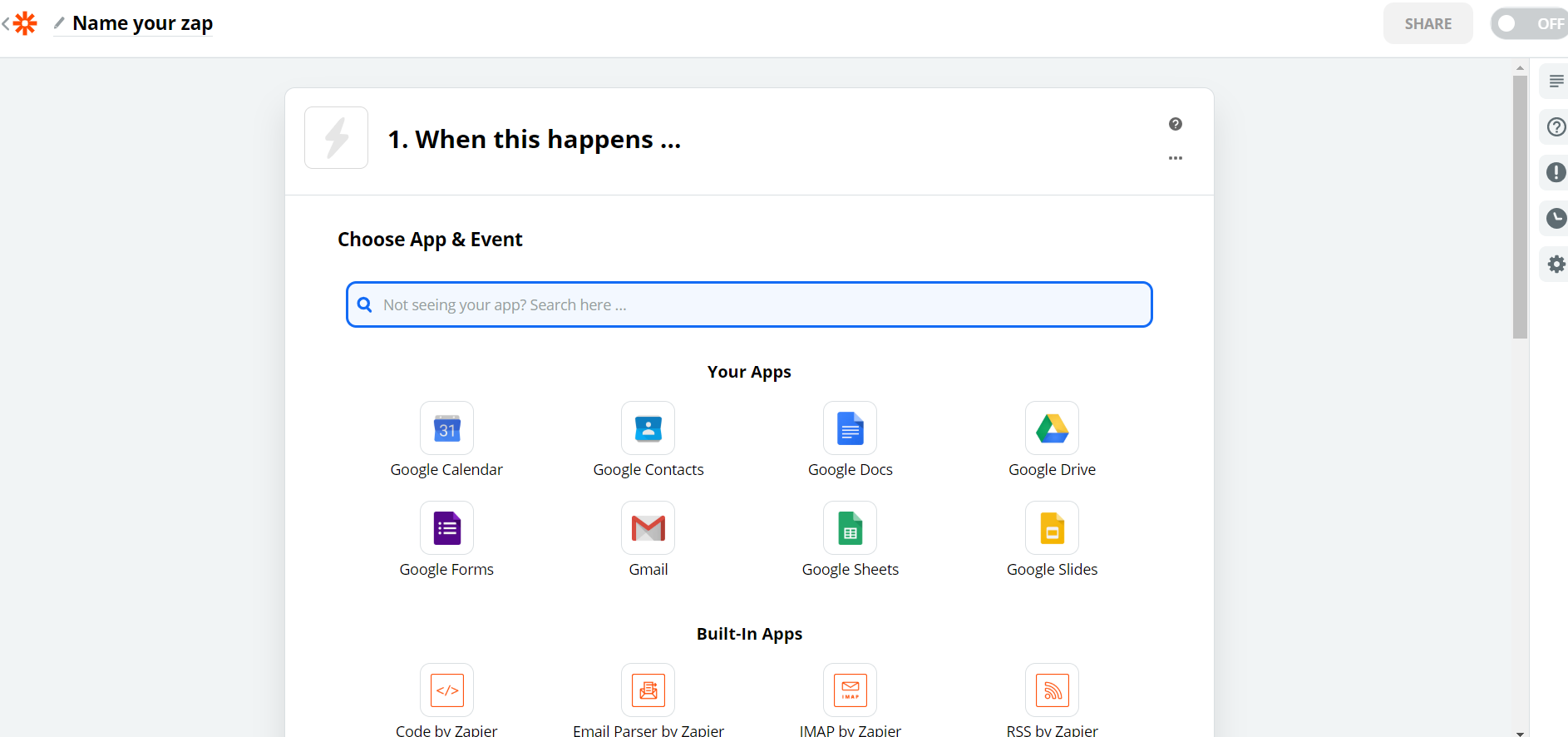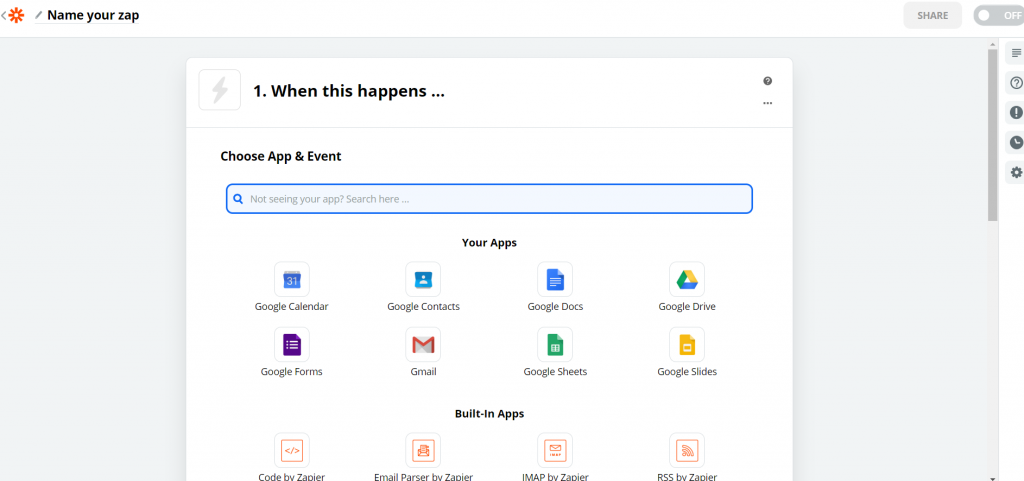 Here, you will have to select the integration you need to make. In this example, this is the "trigger" section where you set the trigger for an action. Let's take a look at Teachable for this example.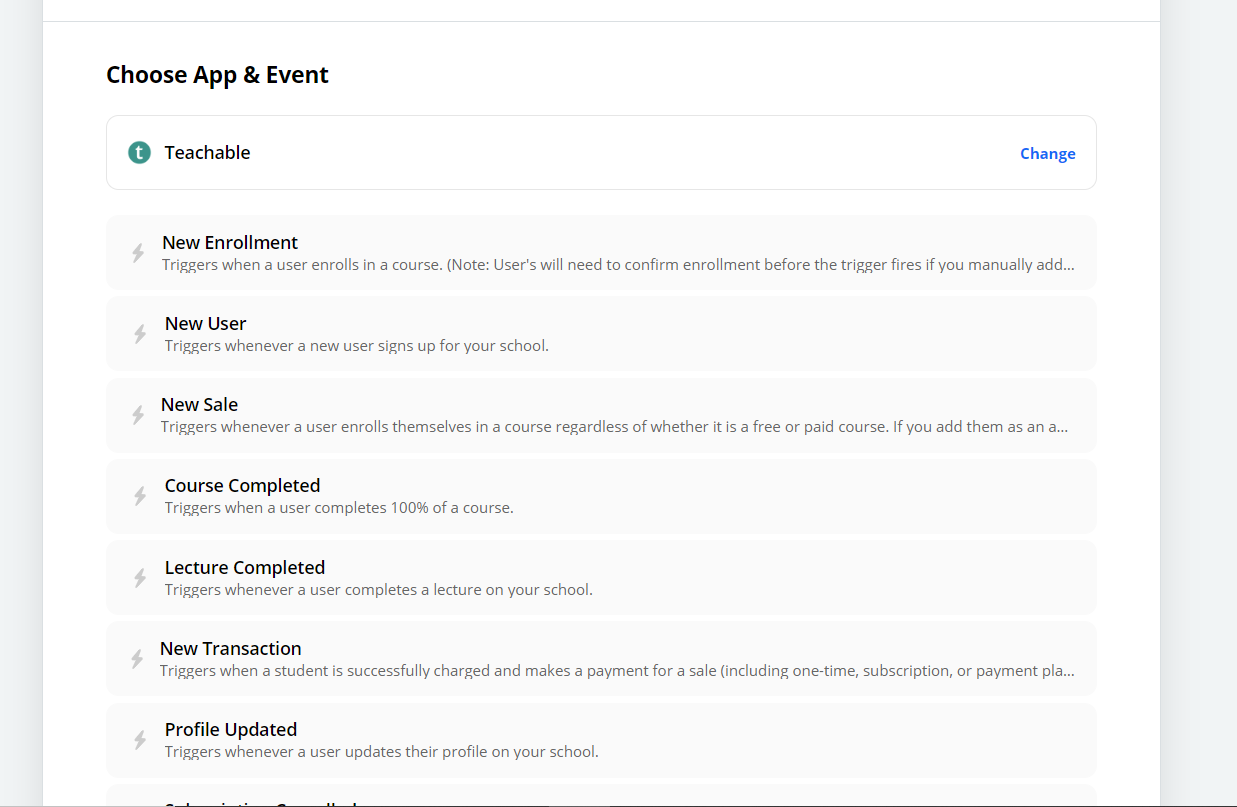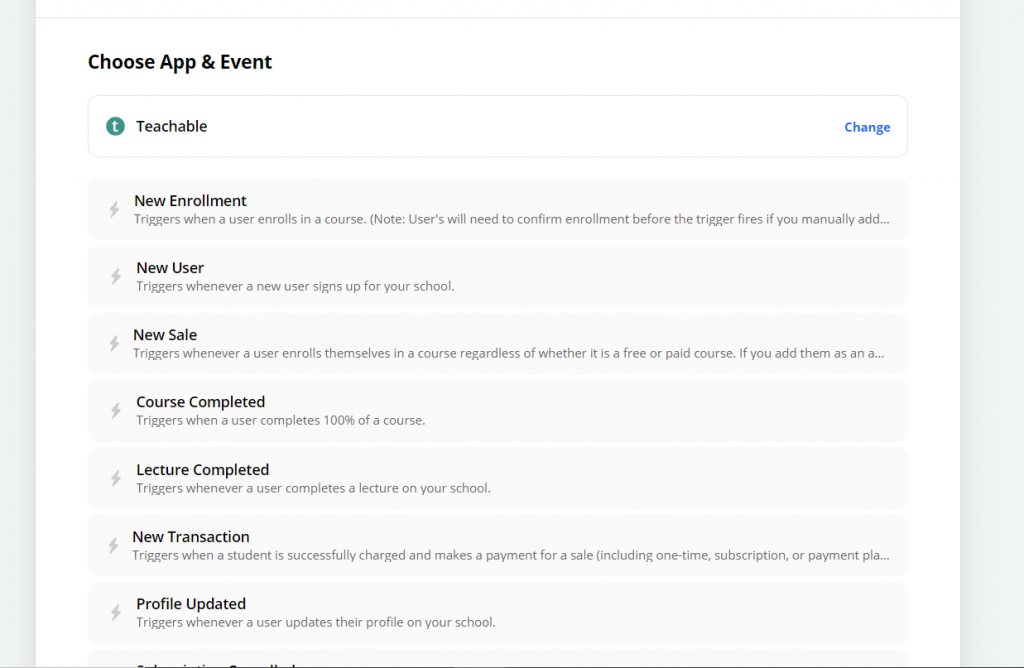 For this example, let's select the "New Enrollment" trigger.
Then, you will need to sign in to your Teachable account and set up the "action" part of the zap.
This is very simple to do, too. All you need to do is select the desired integration. For this example, let's select Google Sheets, and the action will be "Add new row upon Teachable sale in Google Sheets".
This zap will create a new entry in your Google Sheets account for every new enrollment on Teachable.
And there you have it, this is how you create a zap. Wasn't too hard, was it?
Wrapping Up
Zapier is becoming increasingly popular for task automation for Teachable users. If you were wondering how you can connect Teachable and some of your most popular software pieces, then Zapier has the answer.
With some simple steps on Zapier, you could save hours weekly and potentially, thousands of dollars worth of work.
Want to know more about Teachable? Check out our review.