We may earn money or products from the companies mentioned in this post.
The e-learning world is nowadays filled with dozens of high-quality course providers, which makes it increasingly hard to pick the right platform to suit your needs.
Great Courses Plus and CuriosityStream are two of the most popular without a doubt. However, they are also slightly different from the rest, and slightly different from each other. The main difference between the two is that Great Courses Plus is a course platform, while CuriosityStream is a documentary-style platform.
Read on to find out more in this Great Courses Plus vs CuriosityStream review.
The Great Courses Plus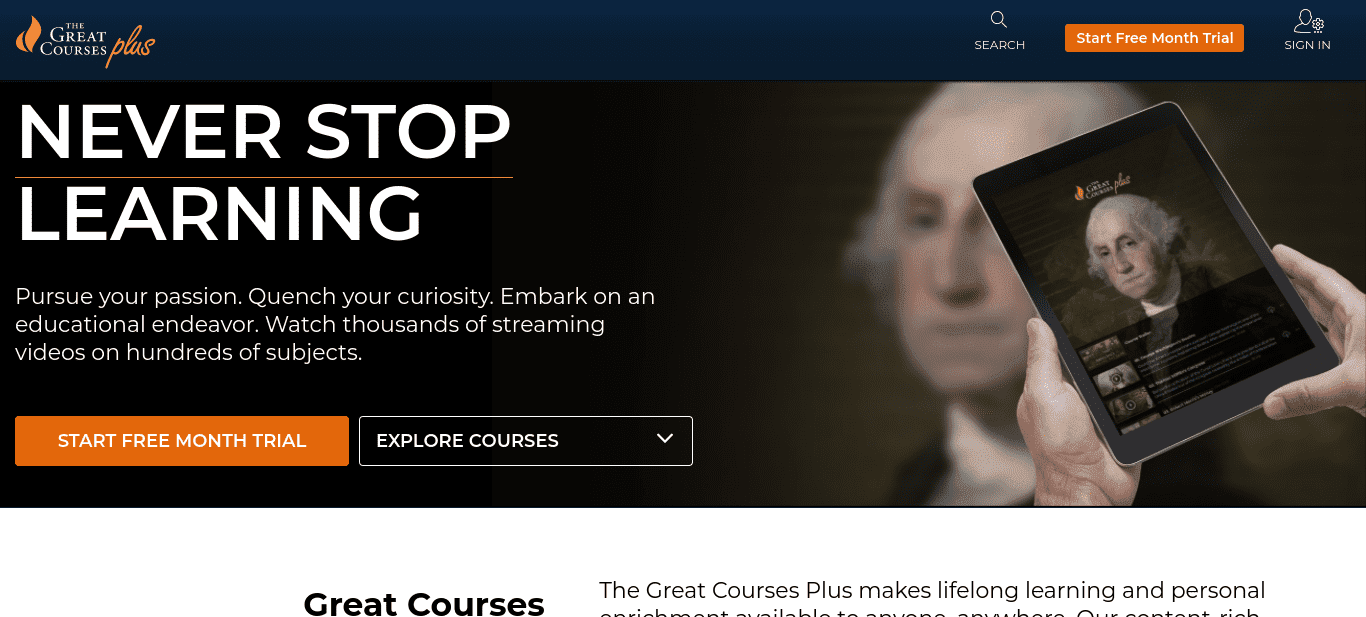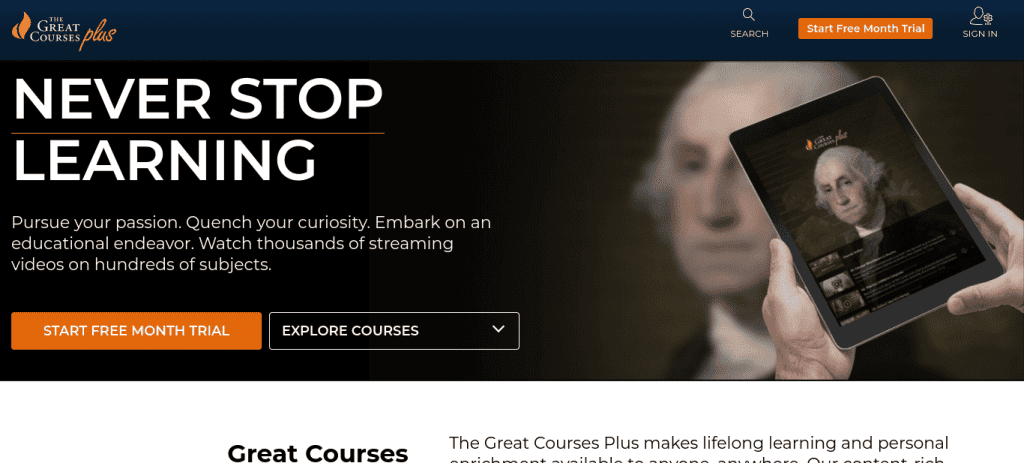 To bring you some perspective on how these two sites work and how they are different from each other, let's first take a look at each platform individually, starting with Great Courses Plus.
Try The Great Courses Plus For Free
What Is It?
The Great Courses Plus is a subscription-based online course provider with hundreds of courses on topics like history, science, finance, literature, hobbies, travel, and much more. For the price of the monthly subscription, you get instant access to all of the courses on the platform.
Nice, right? This fact led people to think about The Great Courses Plus as "Netflix of learning". There are courses on almost every topic you can think of; there's knowledge-based topics like history, or skill-based topics like photography.
But the Great Courses Plus platform has been around ever since the 1990s. It's a part of a larger ecosystem called The Great Courses, which is also a course platform – the difference between the two is that the Great Courses Plus utilizes the subscription model, whereas the Great Courses platform allows you to buy courses individually.
Great Courses Plus is vastly different from your Udemy's and Coursera's (see how it compares to Coursera here). It's more relaxed and better for learning hobbies. You don't have assignments and quizzes, which makes it almost like a documentary-styled platform (although not as much as CuriosityStream).
Try The Great Courses Plus For Free
Who is it For?
The Great Courses Plus is for everyone. It's for people who are willing to learn about new things constantly, as the library of courses gets expanded on a monthly basis.
The impressive library of courses makes The Great Courses Plus an all-round learning platform where there's a little bit of something for everyone.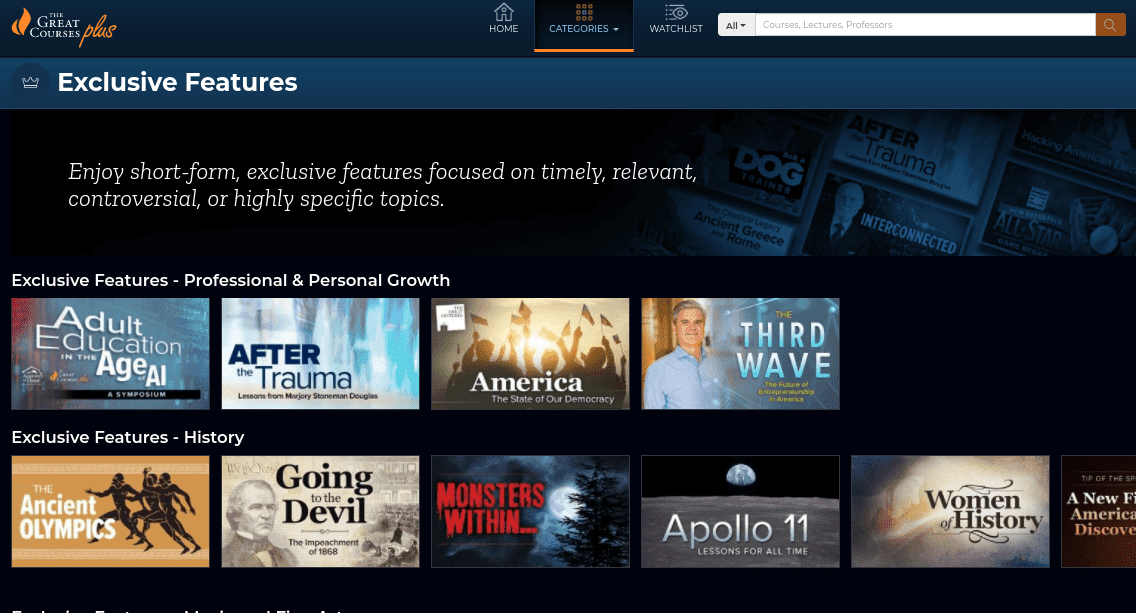 If you want to learn more about brewing, you can. If you're interested in history, you can watch history videos about all sorts of topics. If you're into economy and finance, you can learn about how money came to be. The point is, there is no end to what you can learn here.
You will probably not learn how to do SEO here, for example. Instead, this platform is more for those seeking a more leisurely approach to learning, a more relaxed approach without the pressure of having to deal with assignments and exams. You can binge-watch the videos just like you do on Netflix and take away loads of knowledge.
Try The Great Courses Plus For Free
How Do You Learn?
So if there are no assignments and quizzes, how do you learn, then?
The truth is that you don't need to have tests if you want to learn new things. If you're truly interested in a topic, you will be able to gain a lot of knowledge on this platform, even if there are no quizzes and such.
Instead, the courses are built around a sequence of videos taught by some of the world's best professors – most of them are independent, although you'll find collaborations with large TV companies. This is how a typical course here looks like.
It's slightly different than some other course providers like Coursera, for example. But you will still take a lot from the courses here, as they are taught by premium professors who make the courses fun.
How Much Does it Cost?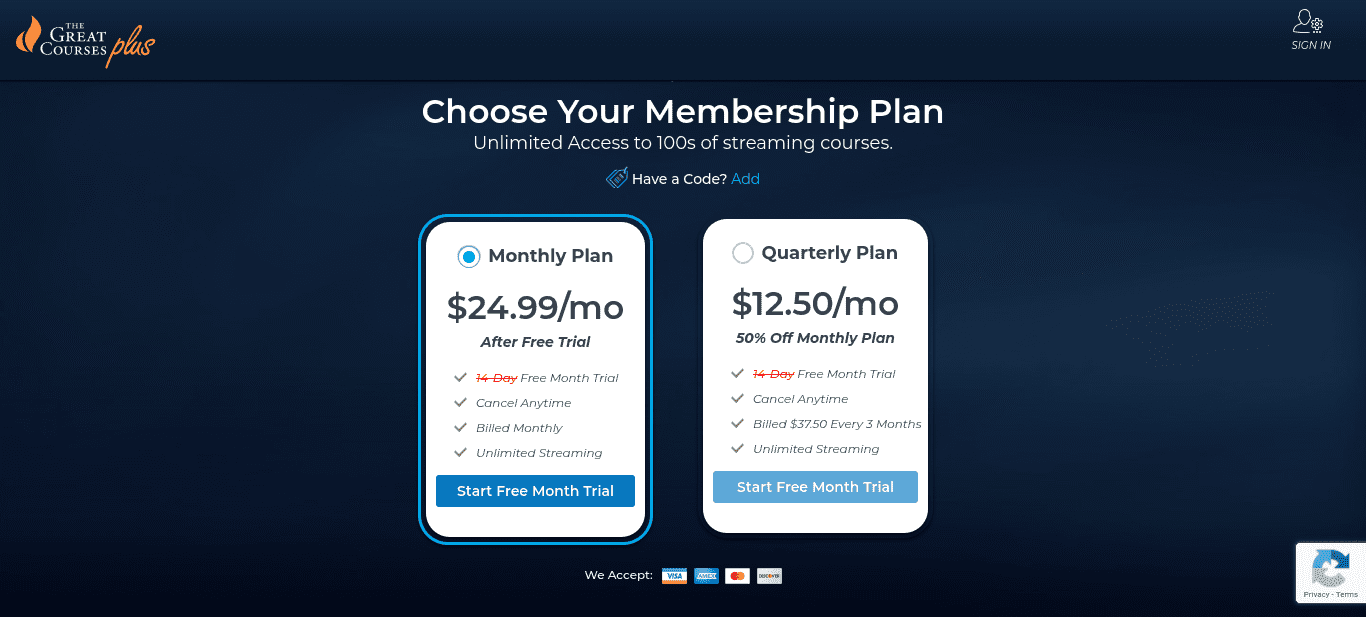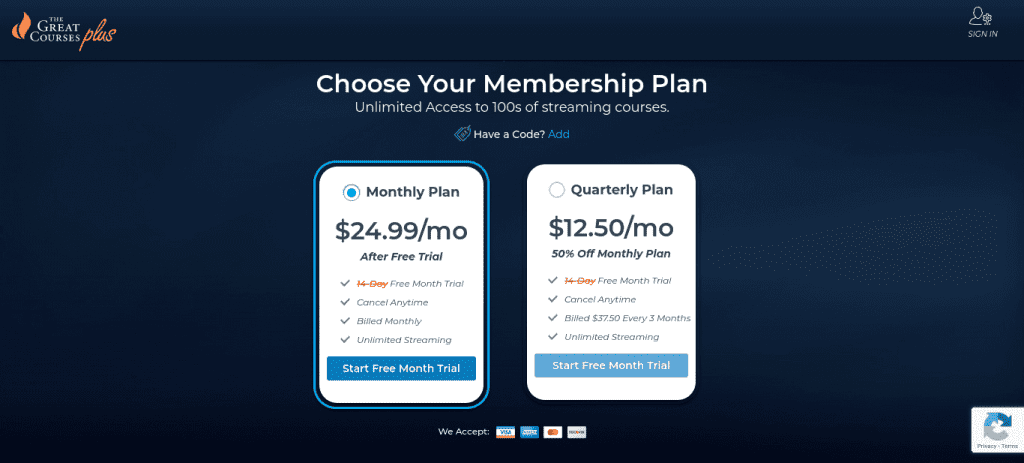 The Great Courses Plus has a monthly subscription plan which will set you back for $19.95. You also have the option to purchase the annual subscription, which costs $360. For this price, you get unlimited access to an unprecedented library of courses on the platform.
NOTE: You get a 14-day free trial before you decide to purchase the subscription. You can cancel the plan anytime during the trial period. It is great to try the platform out and see if it fits your needs.
Try The Great Courses Plus For Free
CuriosityStream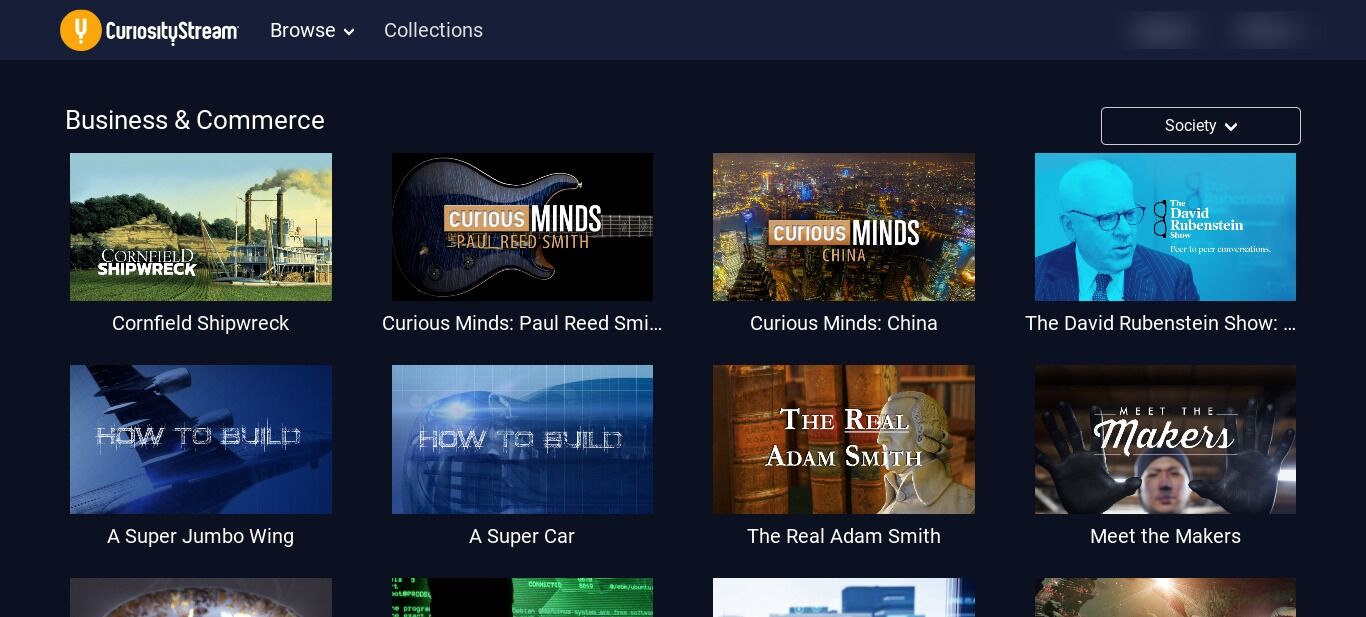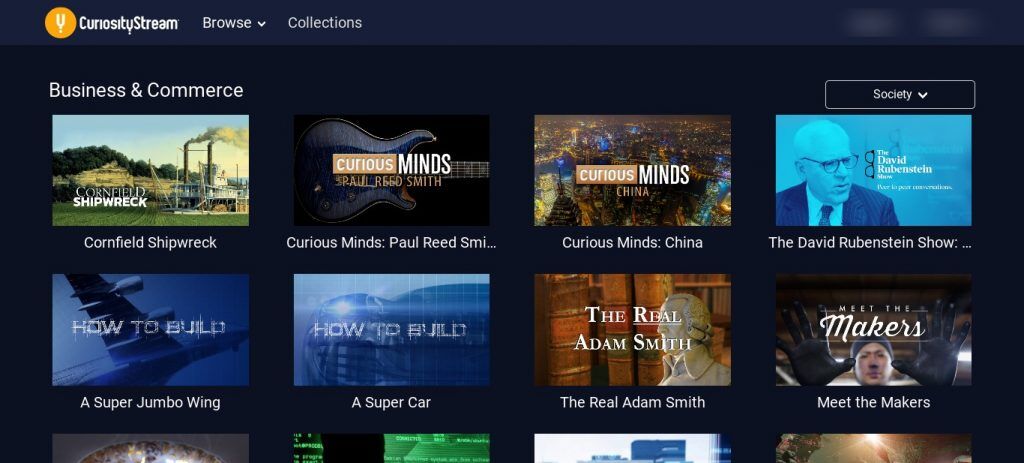 How about CuriosityStream? Is it different from Great Courses Plus, and if so, how? What are you getting for the money you pay on this platform?
What is it?
CuriosityStream is an online library of learning materials, including documentaries, TV shows, and videos. It is distinctly different from Great Courses Plus in the sense that you'll mostly find documentaries here, and not courses.
The platform was launched in 2015, and in 2020, it had more than 13 million subscribers worldwide. That's impressive growth!
It has become so popular mainly because of its exclusive library of some of the best documentaries around from producers like BBC or NHK. But perhaps the biggest selling point is its affordability – for just less than $20/year, you have unlimited access to the entire library of documentaries for a whole year!
Start a free CuriosityStream trial!
Who is it for?
CuriosityStream is designed for anyone who's hungry to learn new things, for people who are curious (as the name suggests). But primarily, this platform is for people who love documentary-style learning.
It has documentaries in 7 different categories: science, history, technology, nature, society, lifestyle, and kids. In each category, there are dozens or even hundreds of interesting documentaries created by some of the world's best producers and narrators.
Great Courses Plus and CuriosityStream have a very similar type of audience. However, one of the biggest differences is still the fact that Great Courses Plus is oriented slightly more towards personal development, while CuriosityStream is primarily for learning new things and for satisfying your "curious itch" about how things are in the world in general.
The documentaries you will find on CuriosityStream are television-style documentaries about just about everything imaginable – from contents about WW1 and WW2, to documentaries about clothing and how clothes are made and stitched. In this sense, it satisfies a wide range of tastes.
Start a free CuriosityStream trial!
How do you learn?
Again, learning is slightly different with CuriosityStream than with your "traditional" course sites like Udemy or Coursera. You learn by watching the documentaries, and you do so at your own pace.
The documentaries are split into episodes, which makes them more digestible and easier to follow. You can binge-watch them if you want, or you can watch one episode at a time and complete the documentary whenever you want.
As the name of the platform suggests, this site is primarily for people who are curious about things. You won't learn practical skills, but for the most part, you'll gain knowledge. Knowledge about the world in general and such knowledge is very hard to come by. And the production value of these documentaries is extremely high, considering they are produced by producers of BBC and the like.
So don't expect to have quizzes and assignments with these courses and to be "challenged" in the sense that you'll have to work hard to gain a new skill. Instead, you learn by watching and drinking in all the information and knowledge you gain with the documentaries.
Start a free CuriosityStream trial!
How much does it cost?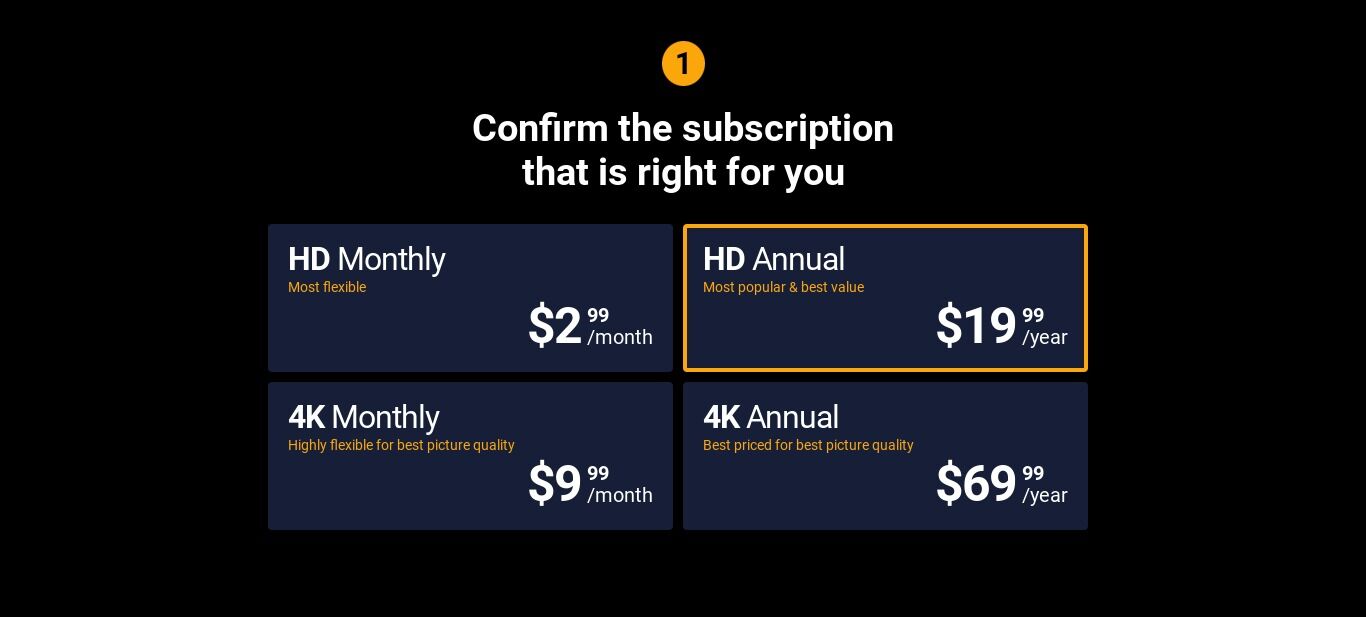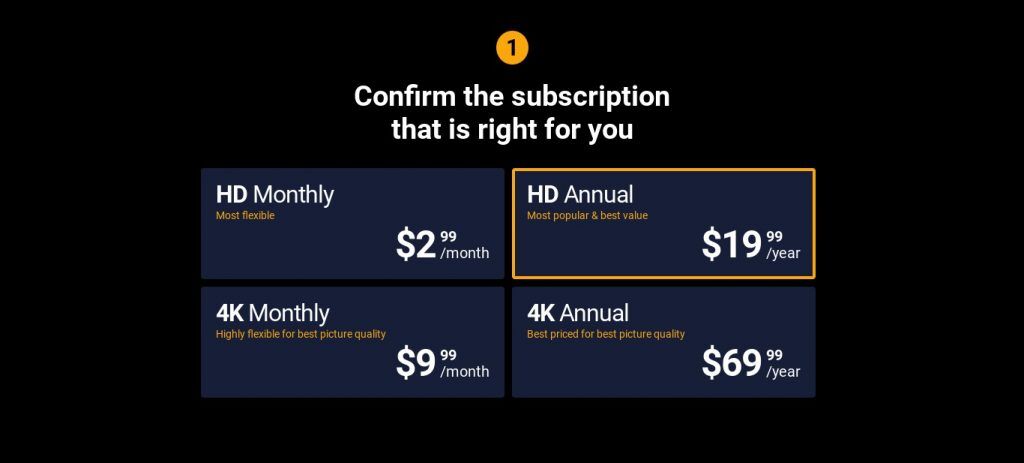 One of the most appealing things about CuriosityStream is its low price: for just $19.99, you're getting access to all of the documentaries for a year in HD quality.
If you want, you can choose the monthly subscription for just $2.99 (in HD), which is great for just trying it out. But we believe that for $19.99, it is absolutely worth to pay for the annual subscription, especially if you watch documentaries often.
There's also an option to purchase a subscription to documentaries in 4K: the annual subscription costs $69.99, and the monthly one costs $9.99.
There's a lot of value in this subscription.
Start a free CuriosityStream trial!
Verdict
So, how do these two platforms stack up against each other?
Well, in essence, they are very similar in terms of the content they have, as both are gravitating more towards documentary-style learning. That's especially true with CuriosityStream where the content purely consists of documentaries.
But I would say one of the more noticeable differences is that Great Courses Plus offers you courses, while CuriosityStream offers you documentaries. With Great Courses Plus, you can still learn skills that you can apply to yourself personally. You won't learn how to code in detail, for example, but there are certain courses where you can apply the skills learned to your everyday life.
Whereas with CuriosityStream, you will learn mostly about how things work, and how history unfolded, or how things are made, or even about some famous personalities. Again, don't expect how to learn that many practical skills – what you're getting here is pure knowledge.
In terms of content, both platforms are at a very high level. On Great Courses Plus, you'll listen to some of the best instructors in the world. On CuriosityStream, you will watch some of the best documentaries in the world in terms of production value.
So both platforms are fantastic at what they do; which one you choose depends on your preferences, though.
Related Articles