We may earn money or products from the companies mentioned in this post.
Home-based cooking classes are great since you are able to learn about cooking, even in the comfort of your home. There are lots of cooking lessons available online, but if you want the best among the rest, Gordon Ramsay MasterClass is a perfect choice.
Note: There are actually two Gordon Ramsay MasterClasses. So, for this article, we'll be looking at both.
Learn more at MasterClass. 
What Is MasterClass and What Does It Cost?
MasterClass is considered a Netflix of internet learning. This is because they have the best and most renowned instructors in the world, teaching and sharing their expertise. Like for instance, Steph Curry teaching basketball, Serena Williams teaching tennis, Paul Krugman teaching economics, and a whole lot more. There are more than fifty courses available to choose from.
What makes MasterClass apart from other forms of online learning is not only about the famous names; it is the superiority of the lessons and videos. They are amazing. You can watch videos all, and they are easy to comprehend. You are able to learn useful skills while watching them. For me, I've found MasterClass engaging and handy. When you register to take a class, you will get a 2 to 5 hour course, a PDF lesson plan, and a discussion board.
There are lots of MasterClass courses available to choose from such as:
How Much I Need to Pay to Take a Class?
A single class will cost you $90, and this is lifetime access. You can also opt to unlimited MasterClassess for a yearly subscription of $180. Obviously, if you're interested in the Gordon Ramsay classes, you'll pay $180 anyway, so you may as well get the all-access pass – that way you get access to all the awesome cooking classes.
Who is Gordon Ramsay?
Gordon Ramsay was born in 1966 in Scotland. He left behind an early healthy career to be a famous chef in London. In the year 2000, Gordon was making his way to TV in London as the volatile host of Ramsay's Kitchen Nightmare's and Hell's Kitchen shows, making a successful move to audiences in the United
States. In the states, Ramsay is more known as the chef who swears a lot and insults people from time to time. However, you could say that is warranted…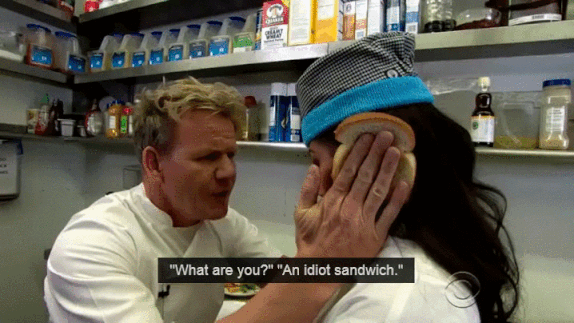 Gordon Ramsay is an award-winning chef, and he expanded his celebrity trademark through such shows as MasterChef as well as Hotel Hell. At present, he owns many restaurants in various parts of the world.
My Review of Gordon Ramsay's MasterClass
Gordon Ramsay MasterClass composed of more than 20 inspiring lessons. Here, you will learn the techniques in purchasing the freshest ingredients to making memorable dishes.
It includes a workbook that sums up the vital points and provides your homework to do as well. There is a lot of useful information contained in the book.
There is a lesson discussion board wherein students share insights and comments. This is cool as if you have issues, you are able to reach out and you will surely get a useful and helpful reply. One fantastic feature is the Office House wherein students can ask queries, and Gordon will reply himself.
I found this MasterClass very valuable. Before, all the meals I've prepared have been bland, but now, they are ridiculously tasty. Every lesson lasts for about twenty-five minutes, which is an ideal length of time to learn Gordon skills in cooking. Every lesson is also entertaining, so you will not lose focus and keep concentrated and entertained.
Try MasterClass with a money-back guarantee 
Gordan Ramsay MasterClass: The Good
Before we start, Ramsay is arguably the most generous MasterClass teacher on the platform. He gives a lot of value in his classes and gives enough for you to build your skills in the kitchen.
What I especially love is how the two courses build off each other. The first MasterClass goes through home cooking and particular skills that you can use at home. This is great for everyone from the home chef, to the person who burns toast and can't get their Ramen water/noodle consistency right.
Ramsay does a great job of giving little tidbits of advice throughout. For example, when he's talking about holding a knife in passing, he pauses and gives instructions on how to properly hold a knife.
This is awesome detail, a lot of other teachers on the platform can skip over some details.
The first MasterClass also has a bunch of 'how to cook' lessons that'll get you cooking some basic recepies. This is built on well in the second MasterClass, where Gordon Ramsay looks at how to bring resturaunt quality meals into your kitchen.
This is a huge positive for any student, as the second course just looks at creating more difficult recipes. It builds off the first course incredibly well and lets you flex your cooking muscles.
Try MasterClass to get started. 
Gordon Ramsay MasterClas: The Bad
There are usually a few things I don't love about MasterClasses. However, the Gordon Ramsay classes seem to solve all of those potential problems!
For starters, sometimes the 'Master' isn't the best teacher. However, Ramsay goes an excellent job in teaching throughout his classes. I'd assume it's because a huge part of being a chef is training staff and teaching what they know. Gordon Ramsay has taught cooking for years and it shows here.
Also, another issue I have with some MasterClasses is that there isn't enough content depending on your interest. For example, the Steph Curry basketball course is great if you're a basketball fan. However, a basketball fan wouldn't buy the all-access plan unless they're also a fan of other topics covered.
However, there's a bunch of cooking classes on MasterClass, so you'll definitely get your moneys worth from the all-access pass.
Visit MasterClass to get started. 
Verdict: Is the Gordon Ramsay MasterClass Worth It?
Yes, Gordon Ramsay's MasterClasses are definitely worth the money. The classes are highly educational and walk the fine line between being basic enough for everyone, but technical enough for experienced home-chefs to pick up a few pointers.
Also, there's a bunch of other cooking classes on the platform, so this makes the all-access pass a bargain. Try MasterClass to get started.