We may earn money or products from the companies mentioned in this post.
Wix is one of the best and most intuitive website builders. It offers the chance for you to create an engaging and complete website without you having much additional coding knowledge. In fact, you require no coding skills at all to create one.
It offers many great functionalities that go along with building a website. Stuff like adding videos, email marketing, music, photos – you name it. All at a cost, though. With that said, can you sell online courses on Wix?
The short answer: You can with the video features that Wix offers to its users. This is great if you have mostly a video course. However, Wix is not the best platform for selling your online course, because you'd have to use higher-priced plans to create a big one, and even that doesn't offer some functionalities that some other course builders do.
With that in mind, you'd be better off using a dedicated course creation platform like Teachable, Kajabi, Talent LMS, Podia, or LearnWorlds.
What is Wix?
If you've ever thought of creating a website or created one, your first choice would have been which website builder to use.
WordPress is the most popular one, but Wix often ends up being a recommended website builder for beginners thanks to its vast array of templates and ease of use.
Wix allows you to create your own website for free. But this means that your website will be hosted for free, and you'll have many templates to choose from.
You also have paid plans if you're thinking about creating an advanced website, though. Using a paid plan, you'll have access to additional features, such as:
More storage space (up to 35GB)
Unlimited bandwidth
Custom domain
No Wix ads
Wix Video (up to 5 hours)
Ad vouchers
Professional logo creator
So if you're serious about creating a course on Wix, you'll have to use a paid plan almost certainly. Let's take a closer look at how to create and sell your course on Wix.
Can You Create a Course on Wix?
Creating an online course on Wix is entirely possible with the Wix Video feature. But this feature doesn't come in the Free plan on Wix, which means you'll have to upgrade to one of the premium plans to access it.
What is more, some paid plans offer you limited opportunities when it comes to uploading videos. You will have limited storage – at most 50GB on the Business VIP plan, which costs $35/month. This plan offers you unlimited video length, but all other plans only offer you up to 10 hours of video on your website.
One thing's clear with Wix: if you want to create a large course with a lot of content, then you'll have to pay a premium price for the additional features.
5-10 hours of video time is just not enough for a larger course, and the storage space can also become an obstacle when you want to add to your course. Another thing is email marketing – this feature doesn't come included with the plans, so you'll have to spend at least an extra $10/month for basic email marketing (up to 9.500 contacts).
Even though that's still cheaper than some other course creation platforms, Wix's main role is not to be a course creation site. If you want a clear and optimized course platform, then you're better off investing your time and money into a more comprehensive course creation site – Talent LMS, Podia, LearnWorlds, Kajabi, Teachable.
What Wix Plan Should I Use to Sell My Course?
The Wix Free plan just won't do if you want to create and sell your course on Wix. This means you'll have to invest in one of the premium plans on this platform.
Now, there are two types of plans you can look into: Personal plans and Business plans. I think that you should be looking at Business plans because these are much more profit-oriented, and they have better scaling options, and Personal plans don't allow you to collect payments from customers.
You have three choices in this department:
Business Basic – $17 per month
Business Unlimited – $25 per month
Business VIP – $35 per month
All of the business plans offer you secure online payments and recurring plans and payments from your customers, which is great. This means you can connect PayPal to the website to collect those payments. Sweet.
The great thing about these plans is also the Unlimited bandwidth you can use for your site, which allows you to have a smooth and quick site.
But the Business VIP plan is perhaps the best for online course creation and selling. That's because it gives you up to 50GB of storage space, which should be enough even for a decently sized course. It also has unlimited video hours, so if you even want to expand your course or if you have a large one, there will be no limitations for scaling.
However, if 10 hours of video time and 35GB of storage space is enough for your course, then go with the Business Unlimited plan.
Note that none of these plans have dedicated marketing options, especially email marketing. This means you'll have to use the Wix Ascend feature, which will cost at least $10/month for the basic plan (up to 9.500 contacts). Ascend Unlimited though, costs $49/month, and it's a must-have if you have a large website with a lot of contacts.
So in total, that can set you back for $84/month if you select the Business VIP and the Ascend Unlimited plan. That's of course, if you have a large online course and if you already have a lot of customers. If you're still building your course and you're just starting out though, choosing some lower-priced plans may be better.
How to Create and Sell an Online Course on Wix – Step by Step
So let's go over each step you need to take in order to create and sell your course on Wix. It's simple, you'll see.
Step 1: Choose Your Plan
If you still don't have a website and you haven't signed up for a plan, you'll need to do that first. You can start for free, but as we've discussed above, you'll need to upgrade to one of the Business plans eventually if you're serious about your course.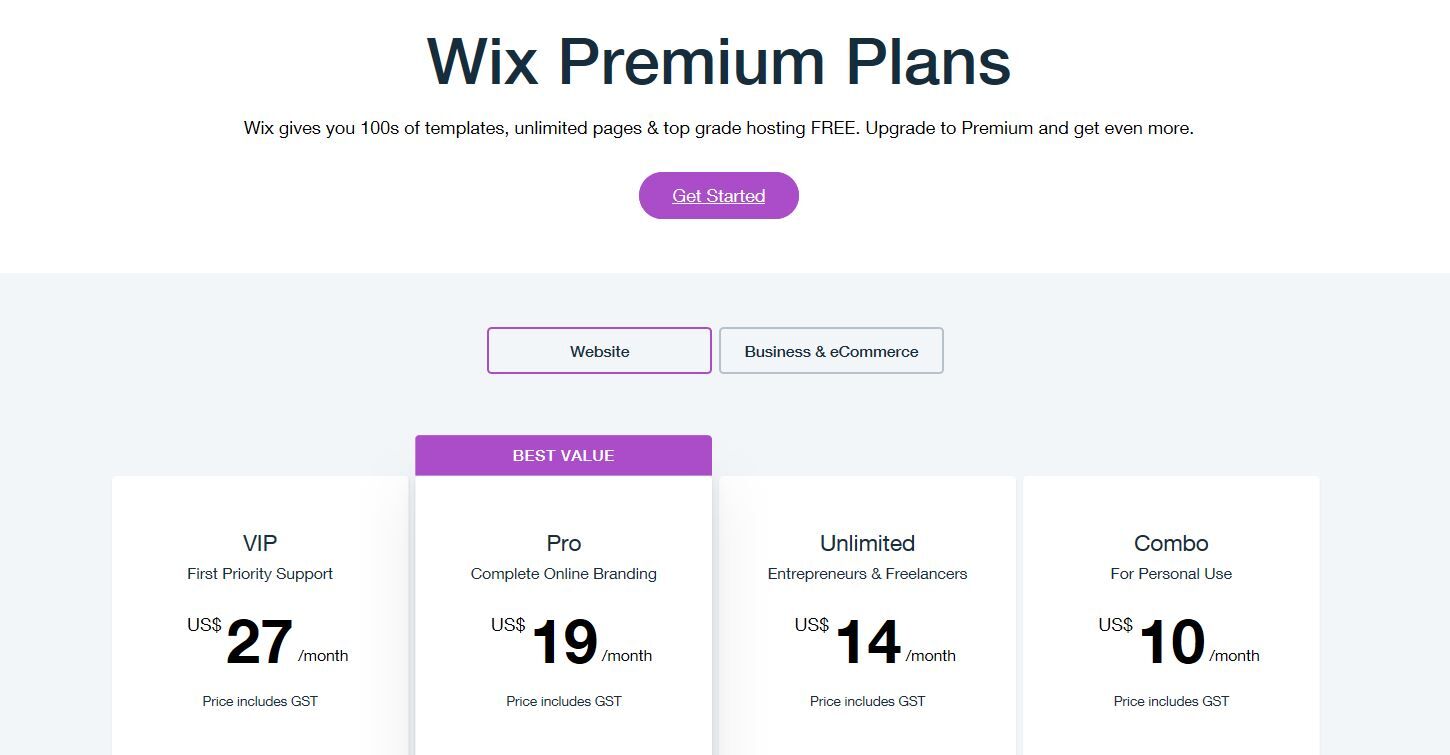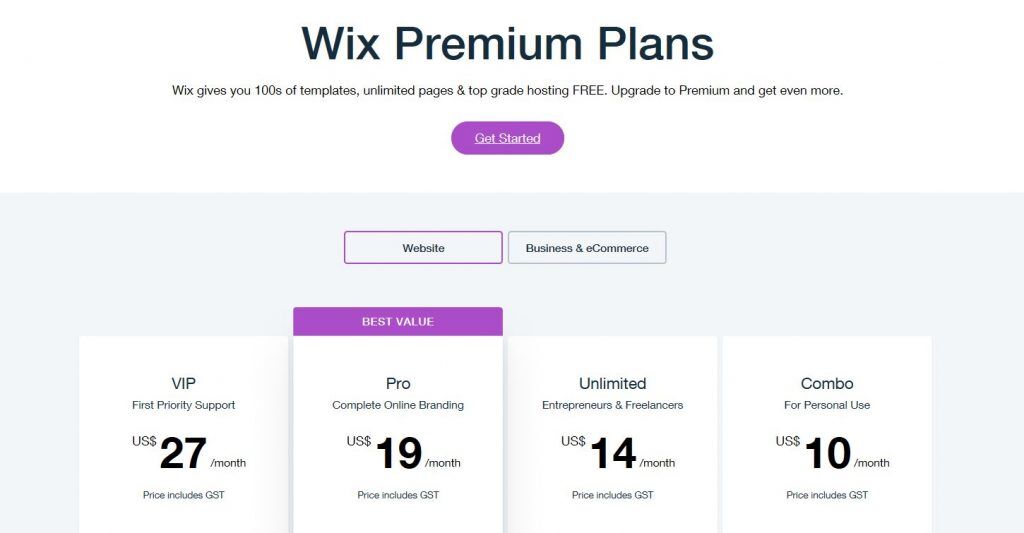 The Business Unlimited or Business VIP plans seem to be the best choices for online course creators on Wix, depending on your course size, length, and the audience you have.
Step 2: Create Your Website
So now that you've chosen your plan, you can create your website. This includes your home page, your about page, and all other pages you want to include on your website. Of course, you'll also need to create a separate page for courses, but we'll cover that in the next step.
You can spend as much time you want here. The great thing about Wix is that you'll have hundreds of different templates you'll be able to use to create your website.
This will simplify the process and make your life a helluva lot easier. Wix is made for people who have no coding skills at all, so you can create an attractive site even if you've never done this before.
Step 3: Create a Separate Online Course Page
Now we're cooking. This is where you'll be able to create your online course on Wix. It's easier to create a separate page on your website and add videos or online content to a separate page. It will keep your site more organized, and it will be easier for you to upload your content here.
Next, you'll need to install the Wix Video app. You'll need this tool if you want to create a video course, or set up a series of videos for your course. With this app, you can upload the videos that you've already made from Youtube, Google Drive, Dropbox, or your computer.
You can create channels to make your videos more organized. Channels can basically act as lessons inside the course to make it feel more organized. You can add as many videos as you want to each channel, and you can name them so that they fit your overall course structure.
You can also add other types of content to the course. This includes text, images, and other graphical elements to spice things up. You can also offer downloadable content to your course users. But if you want purely a video course, you can also do that.
Step 4: Price Your Online Course
The next step will be to price your content. You can select different pricing models here:
Monthly subscription plan
Set prices for each channel/lesson
One-time price for the entire course
Various other payment plans (monthly)
Membership plans
As for the price of the course, it's totally up to you. Wix offers you the flexibility here to set the price to as much as you want. You can also offer different payment options, depending on what payments are enabled on your site (PayPal, card, etc.).
Step 5: Market Your Course
Now that you've created your course, your work is not done yet by any means. You'll need to constantly market it to existing and new customers, although much of that work can be automated, luckily.
You have two options here:
Using Wix's dedicated Ascend marketing tools
Using integrations that will help you do the marketing
If you want to use the Ascend Wix Marketing tools, then you'll have to pay additional fees for that service. This can be anywhere between $10 and $49 per month.
This service will offer you marketing tools such as capture forms, chat automation, customizable forms, email marketing, social media integration, online payments, Gmail and Facebook sync, and VIP support.
Alternatively, you can use the many integrations that are available with Wix, such as:
MailChimp
Hubspot
Google Analytics
Google Ads
Smart Popups & Forms
Sales Pop
Of course, you can also use a combination of both Wix Ascend and integrations. In either case, you'll have to invest quite a lot of time in marketing initially, so that you can automate the majority of the processes for marketing means.
Is Wix Worth it for Selling Online Courses?
Wix can be a decent alternative for some course creation sites if you already have a site on Wix and you don't want to create a separate site for your course, which can mean a ton of transfers and additional work.
However, if you're starting from scratch, then you're better off using separate and dedicated course creation platforms, such as:
Podia
Talent LMS
LearnWorlds
Teachable
Kajabi
Why?
Firstly, most of these platforms have dedicated tools for creating engaging and more complete online courses. If you don't want to overly rely on solely video courses, then these platforms will almost certainly be a better option for you.
Secondly, they offer you more space and options than Wix. Even on the basic plans of some of these platforms, you'll have much more storage space for your content.
Thirdly, if you're looking to create an LMS, then Wix doesn't offer much in terms of customer support and the payment options also feel somewhat limited.
Lastly, the Wix fees can actually be higher than the prices of some other course creation platforms that have more features for course creation. The Business VIP plan costs $35/month, but it doesn't have marketing options and you'll need Wix Ascend to collect payments anyway.
There's no denying that Wix is a fantastic site builder. It's simple and it has tons of templates, so it makes it simple for beginners to create attractive websites. But for course creation, it's not the best of platforms to use.
You should only use Wix to create courses if you already have a running website with a lot of monthly users and followers, and you don't want the hassle of transferring your content to other site creation services.